A former racing driver who played the character of The Stig on Top Gear said the BBC show should be learning from its investigation into presenter Andrew "Freddie" Flintoff's accident, not pausing making an upcoming series.
Perry McCarthy, who first played the mysterious helmet-wearing racing driver in the long-running hit motoring programme, was speaking after the corporation announced that "it would be inappropriate to resume" filming season 34.
On Friday, McCarthy told BBC Radio 4's World At One programme: "(The) thing in my mind is I've got no idea why they're now looking to cancel filming because they've had an accident.
"What they should be doing is actually learning from that and implementing some better safety procedures."
On December 13 last year, former professional cricketer Flintoff was taken to hospital after being involved in the incident while filming the series at the Top Gear test track at Dunsfold Aerodrome in Surrey.
A statement from BBC Studios said that there will be a health and safety review of the show, "in line with our procedures".
It also said: ""We have sincerely apologised to Freddie and will continue to support him with his recovery. Under the circumstances, we feel it would be inappropriate to resume making series 34 of Top Gear at this time.
"We understand this will be disappointing for fans, but it is the right thing to do, and we'll make a judgment about how best to continue later this year.
"This has also impacted the production team, who we continue to support."
McCarthy also said Top Gear is "an expensive show to produce" and that could be a factor in decision making.
He added: "I think there's always going to be a market for what we call the petrol heads, people who are interested in cars, but there's also so many opportunities to include new technology."
McCarthy added that he knows the "risks" on the Surrey track are "significantly" reduced due to having few obstacles.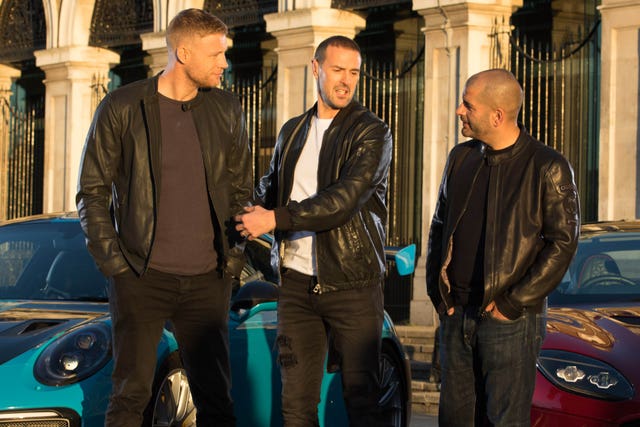 The PA news agency understands that a decision about resuming filming on the show, which is also presented by Take Me Out host Paddy McGuinness and automotive journalist Chris Harris, will be made later in the year.
A source has told the Times that Flintoff "doesn't feel like he is able to continue to play that role on the show".
BBC Studios declined to comment on the 45-year-old former England captain's return to Top Gear and directed inquiries to the presenter's representatives, who have also been contacted for comment.