Actor Jonathan Majors was arrested on Saturday in New York on suspicion of strangulation, assault and harassment.
A lawyer for Majors said on Sunday there was evidence he was "entirely innocent".
New York City police said that Majors, star of the recently released Creed III and Ant-Man and The Wasp: Quantumania, was involved in a domestic dispute with a 30-year-old woman.
"The victim informed police she was assaulted," a spokesperson for the NYPD said in a statement.
"Officers placed the 33-year-old male into custody without incident. The victim sustained minor injuries to her head and neck and was removed to an area hospital in a stable condition."
Majors was no longer in police custody as of Saturday night, the NYPD spokesperson confirmed to The Associated Press.
"He has done nothing wrong," said the representative. "We look forward to clearing his name and clearing this up."
A lawyer for Majors, Priya Chaudhry, came out more forcefully on Sunday, saying Majors "is provably the victim of an altercation with a woman he knows" and blamed the incident on the woman having "an emotional crisis".
Ms Chaudhry said there was evidence clearing Majors, including "video footage from the vehicle where this episode took place, witness testimony from the driver and others who both saw and heard the episode, and most importantly, two written statements from the woman recanting these allegations".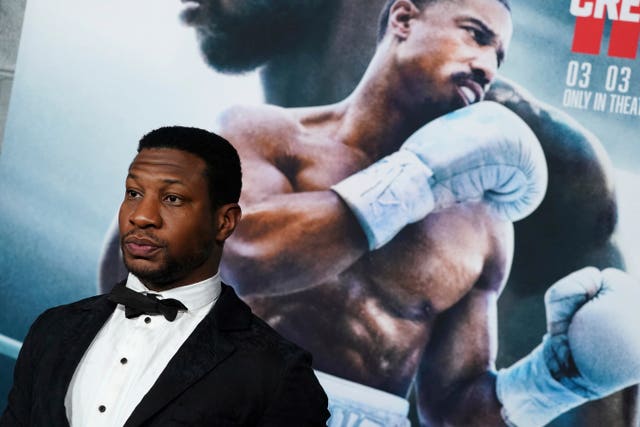 Majors was arraigned on Sunday on a complaint involving misdemeanour charges for assault and aggravated harassment, the Manhattan district attorney's office said. He was scheduled to appear in court on May 8.
The US Army suspended its TV advertising campaign featuring Majors that was intended to target younger audiences. The Army Enterprise Marketing Office said in a statement on Sunday that the US Army is "deeply concerned by the allegations surrounding his arrest".
"While Mr Majors is innocent until proven guilty, prudence dictates that we pull our ads until the investigation into these allegations is complete," the office said in a statement.
Majors is one of the fastest rising stars in Hollywood. After breaking through in 2019's The Last Black Man In San Francisco, Majors has starred in Da 5 Bloods, The Harder They Fall and last year's Devotion.
He also stars in the recent Sundance Film Festival entry Magazine Dreams, which Searchlight Pictures is to release in December.