The 2023 Eurovision Song Contest will be "absolutely enormous" and feature a thrust stage usually used at rock concerts for the first time in the competition's history, organisers have said.
The ACC Liverpool will see a 950 square metre main stage and a 500 square metre green room along with more than 2,000 specialist lighting fixtures when the international show begins in May.
James O'Brien, the executive in charge of Eurovision production, who previously worked on the MTV Europe Music Awards for 13 years before joining BBC Studios, told the PA news agency: "So the unique thing about Eurovision is the scale.
"You'll see when you see the show that the set is absolutely enormous and covers almost the entire floor, because there's a green room that goes in where the talent sit to watch the show."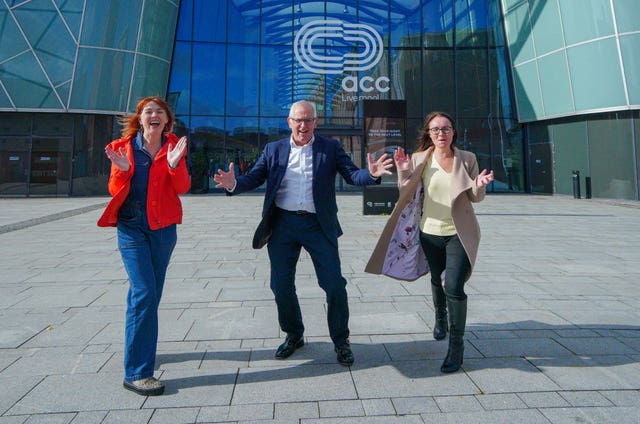 Over the five stage building weeks, the production team is installing 140 tonnes of a steel ground support structure and eight miles of cabling for lighting, sound, video and special effects.
Mr O'Brien added: "New for Eurovision (is) to have that kind of thrust stage that comes into the centre, which is (really) taking its cue from rock shows, and our designer Julio Himede actually designed the Grammys as well this year and this set is actually much bigger than the Grammys set."
The stage will jut out into the arena and see the audience sat around the sides.
Faye Dyer, managing director of the ACC Group, said that for Eurovision they are using the ACC Convention Centre and Exhibition Centre in Liverpool along with the 11,000-capacity arena.
She added: "Our facilities actually lend themselves really well to these global events.
"That means that we can rotate the props and we've got plenty of spaces for the delegation and the press to make sure that everybody that's coming to Liverpool is going to have a really, really welcoming, inclusive and wonderful event."
Ms Dyer also said: "What's really special about this year is that there's a lot of work going into what we can do with the props afterwards… (and) how we can recycle props to be sustainable."
Mr O'Brien also said the BBC is working with Ukrainian lighting and film specialists on the production and will use special Ukrainian camera equipment.
He added that bringing in the country's culture is going to be "very emotional" and will be a "really important" part of Eurovision.
Mr O'Brien also said: "There are 2,500 moving lights and the screens on stage actually track, they move backwards and forwards, up and down the stage, and turn round.
"In terms of scale, in terms of spectacle (it is) incredible because there's 37 countries so it has to change for each one."
Eurovision has previously seen Netta from Israel give a Japanese-inspired performance featuring toy cats, Kate Miller-Heidke from Australia moving around the stage on poles and Austrian Conchita Wurst using lights to look like flames were dripping from the ceiling.
Mae Muller will represent the UK at the arena next month with the track I Wrote A Song, which features tongue-in-cheek lyrics about a cheating ex-boyfriend and a propulsive dance beat.
Alongside Eurovision, a two-week series of mostly free events will run around the same time as the song contest in Liverpool.
EuroFestival will see a performance by Ukrainian Eurovision Song Contest winner Jamala, collaborations between British artists and Ukrainian artists along with a parade featuring a glitterball jellyfish.
The Eurovision grand final takes place on Saturday May 13.