Rishi Sunak will be grilled about his wealth and response to the cost-of-living crisis in a TV interview with a group of children.
Young presenters will quiz the Prime Minister on a special edition of Sky's FYI: Weekly News Show on the Sky Kids channel.
In the wide-ranging interview, which covers topics including under-age vaping, Mr Sunak reveals he is looking forward to seeing his "favourite popstar" – Katy Perry – perform at the King's coronation concert, according to Sky.
It also touches on the deepening cost-of-living crisis, with one girl questioning the Prime Minister's suitability to help "struggling families" given his wealth.
Ruby, in Highgate, asks Mr Sunak: "It's been a tough winter for us all, but how do you know to help struggling families when you're so rich yourself?"
Mr Sunak replies that "the best way to judge people is not by what job they're doing or where they come from, it's about what they're actually doing, and I think you can judge me by my actions".
Asked about what the Government will do to stop under-age vaping, Mr Sunak will highlight the announcement of a new "illicit vapes squad" led by trading standards officials and aimed at cracking down on the sale of e-cigarettes to children.
"No one should be vaping under 18 and it's illegal to sell vapes to children," he says.
"These adverts for these things are designed to appeal to kids, with the colours they use, the characters they use – that's not right – their flavours."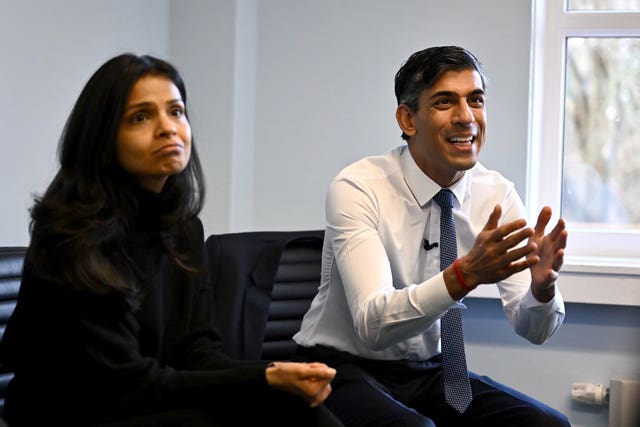 Akshata Murty held shares in Koru Kids as far back as March 2019, before Mr Sunak entered Downing Street as chancellor, according to documents lodged with Companies House.
Mr Sunak's team has said he transparently declared the shares as a ministerial interest, rather than to the Commons, and has followed the rules.