The producers of a stage play based on the "Wagathie Christie" trial say the show will go on – despite Rebekah Vardy trademarking the term.
Vardy v Rooney: The Wagathie Christie Trial, a "verbatim production" using High Court transcripts from the libel battle between Coleen Rooney and Vardy, is on at the Ambassadors Theatre in the West End and set to tour the UK and Ireland from May 26 until June 17.
On Wednesday, Saphia Maxamed, owner of London Entertainment, confirmed to the PA news agency her firm has registered "Wagatha Christie" as a trademark on behalf of its client Vardy.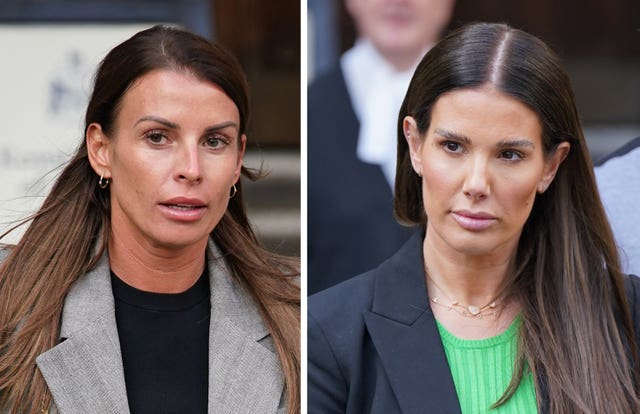 "Performances of Vardy v Rooney: The Wag*tha Chr*stie Trial continue as planned in the West End and on tour and we would be delighted for Mrs Vardy to come and see the show."
In their statement, the producers used asterisks to alter the play's name in an apparent reference to the trademark – and the idea they may no longer be able to legally use the term Wagatha Christie.
After a successful debut at London's Wyndham's Theatre between November and January, the play was renewed for a run at the Ambassadors Theatre for six weeks in April and May.
It will head to New Victoria Theatre in Woking, Liverpool's Empire Theatre, the Palace Theatre in Southend, The Lowry in Salford and Brighton's Theatre Royal throughout May and June.
In a viral social media post in October 2019, Rooney, wife of former Manchester United and England captain Wayne Rooney, accused Vardy, who is married to Leicester City striker Jamie Vardy, of leaking "false stories" about her private life to the press.
Last summer, in a trial that gripped the nation, Vardy, 41, took Rooney, 37, to the High Court for a libel battle – with a judge finding the latter's post to be "substantially true".
The case got its popular name, a portmanteau of wag – a term short for 'wives and girlfriends' commonly given to footballers' partners – and the name of whodunnit writer Agatha Christie, because of the steps Rooney took to probe the source of the leaks.
Representatives for Mrs Vardy and Mrs Rooney have been contacted for comment.