Comedian Frank Skinner said if he had failed to make the Princess Royal laugh as he was made an MBE he would not have felt he deserved the honour.
The 66-year-old, who was honoured at Buckingham Palace for services to entertainment, said he does not like to meet anyone and not make them laugh.
Skinner, who received the honour from Anne on Thursday, told the PA news agency: "If I didn't make the Princess Royal laugh today I wouldn't feel like I deserved the medal.
"I had her laughing throughout, it was pretty consistent, she was a pretty good audience because she couldn't go anywhere."
"She said it was a bit confusing that I've got two names. I had to explain that when you're in the actors' union, only one person can have a name. Frank Skinner was someone from my dad's dominoes team, so I chose that.
"I think she just found it funny how I'd chosen my name – dominoes doesn't sound glamorous enough to be discussing at Buckingham Palace."
Skinner said he also made the princess laugh as he got the protocol of collecting the medal wrong.
"She reached for another medal and I forgot she'd given me mine so I thought that was mine, I went back for that one and she said, 'no, you only get one'."
The comedian, known for co-writing popular football song Three Lions with David Baddiel, said his former collaborator will be keeping a close eye on the next honours lists.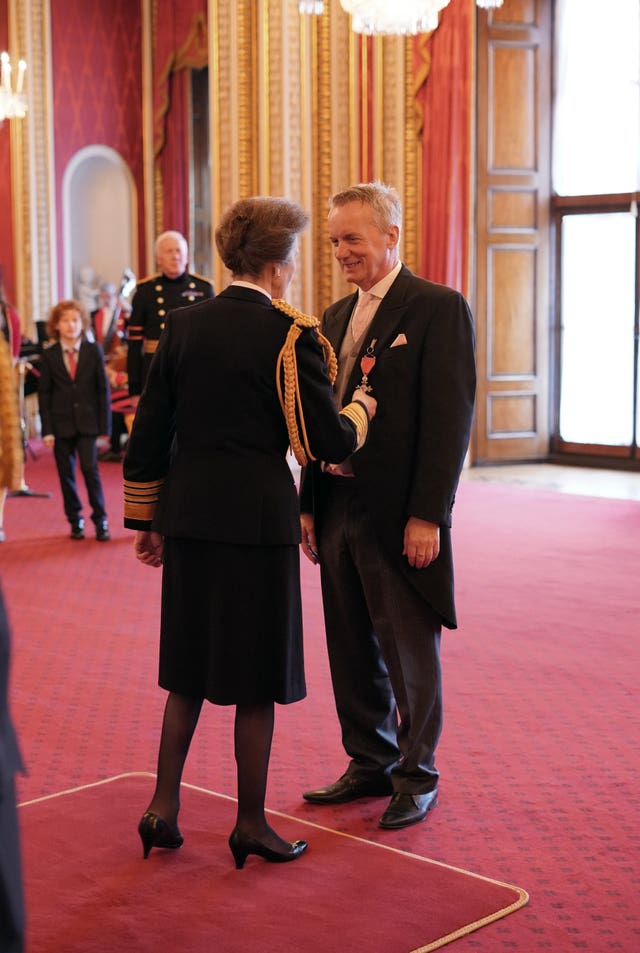 "I think he'll be keeping a very close eye on the next couple of lists to see if it was just a slip of memory and they put him in soon."
On the success of Three Lions, he said: "First time around, I thought it might do well, but I had no idea that, like, 30 years on, it would still be coming out, it's absolutely mad, I think it's right up there with God Save The King."
Skinner collected his MBE alongside This Is England actor Stephen Graham, who was made an OBE for services to drama.
Graham, 49, who who recently starred as Mr Wormwood in the movie Matilda The Musical, dedicated the honour to his mother, who he announced on December 31 had died.
He wrote on Twitter: "I feel so honoured and proud to share this with her. An OBE for both of us, mum."