Celebrity friends of Paul O'Grady have begun to arrive for the TV star's funeral.
Rolling Stones guitarist Ronnie Wood and comedian Alan Carr were welcomed to St Rumwold's Parish Church in the Kent village of Bonnington by sombre music from the Salvation Army Band.
Comedian and TV presenter Jo Brand arrived with soap star Cheryl Fergison, followed by actress Linda Henry, who plays Shirley Carter in EastEnders.
LGBT rights campaigner Peter Tatchell wore a purple shirt and black tie, while TV presenter Gaby Roslin sported an all-black ensemble as she entered the Grade I listed church.
Celebrity chef Andi Oliver and Coronation Street star Sally Lindsay were among the mourners petting the animals.
Personal notes from family, including his daughter, Sharyn Mousley, were left outside the church attached to wreaths of lilies, in an apparent nod to the star's drag alter ego, Lily Savage.
Salvation Army Captain Jo Moir, who mentored O'Grady when he trained as a volunteer for the charity in a 2016 TV documentary, paid tribute outside the church.
She told PA: "I'm lucky enough that Paul became my friend after we finished filming together seven years ago and he became part of my family so we talked about this kind of stuff.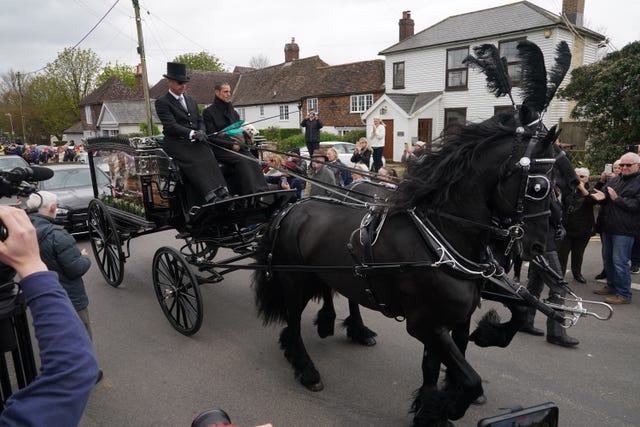 She said the band would be playing music that was "precious to him".
The funeral procession moved through the village while hundreds of well-wishers looked on.
His husband Andre Portasio was emotional as he rode on the carriage drawn by two black horses with one of couple's dogs on his lap.
Nine limousines followed with a cortege including motorbikes behind them.
A bake sale was organised outside the Walnut Tree pub in Aldington, with proceeds going to Battersea, with which he worked closely throughout his life.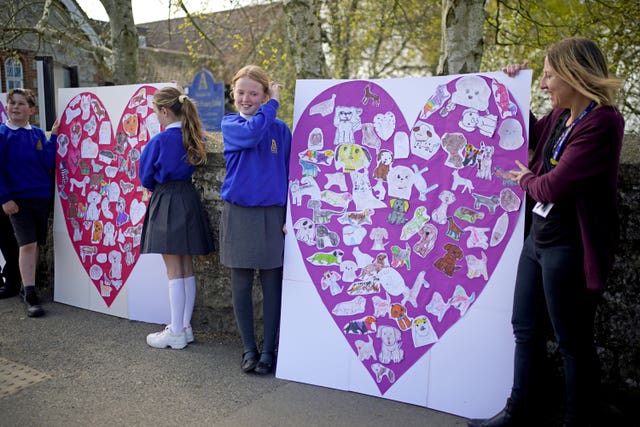 "He was always very engaged. He must have got fed up to his back teeth with everyone but he was always good. It is a real shock just even talking about it."
WI member Linda Harman said the response from the village has been "phenomenal".
"We have had other celebrities living in the village. Paul was the one who gave back," she said.
Walnut Tree landlady Karen Barrett told PA that O'Grady had been a regular and was "lovely".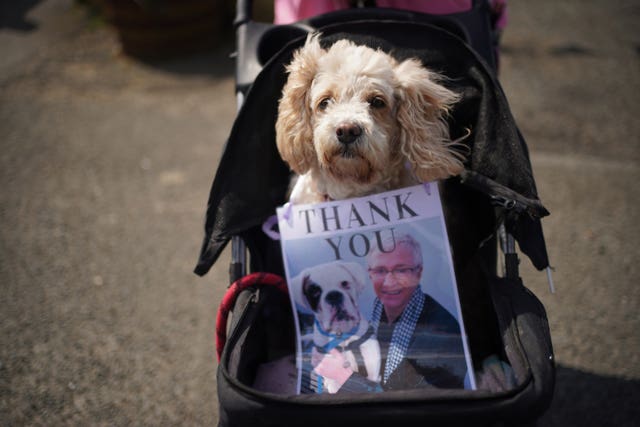 "It will be real. He was just lovely and if you didn't get to meet him then you missed out on life. You really did, he was just great."
Ms Barrett, who became emotional while talking about O'Grady, said she is focusing on making sure "the day goes well and he would be proud of us".
She added: "I moved into the village 22 years ago, the same time as Paul did."
O'Grady, who rose to fame as Lily Savage before going on to host a string of television programmes as himself, died "unexpectedly but peacefully" at his home on March 28 at the age of 67.
Born in Birkenhead on the Wirral, Merseyside, he later adopted Kent as his home for more than 20 years.