Veterans of the Falklands war have described the emotional memories brought back at the unveiling of 258 silhouetted figures created to remember those who died in the campaign more than 40 years ago.
The art installation, Standing With Giants, has been installed in the parade ground at Fort Nelson overlooking Portsmouth, Hampshire, where many of the Royal Navy ships set sail for the 1982 war.
The exhibition, created using recycled materials, has been set up by Oxfordshire artist Dan Barton with local volunteers, who has previously held installations at Thoresby Park, Nottinghamshire, and at the Bomber Command Centre in Lincoln as well as in the Falklands.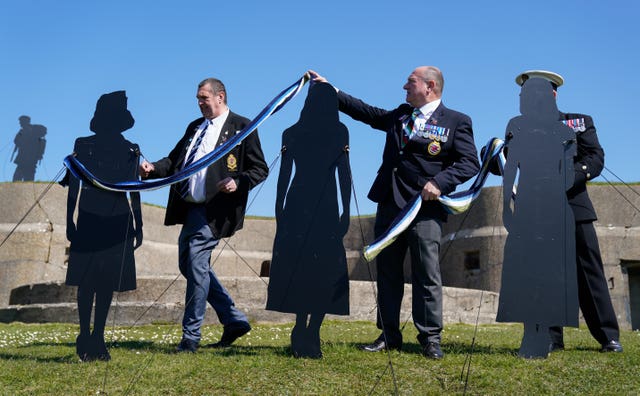 Barrie Jones, 63, from Portsmouth, who served as a leading radio operator LRO(G) on HMS Intrepid, told the PA news agency: "I am absolutely stunned.
"The emotion it brings out, I was expecting something special, the moment you come round the corner, see the poppies, everything, it's just absolutely brilliant.
"A very, very fitting tribute to those who never came back."
Mr Jones placed a scarf, knitted especially for veterans and families, on one of the silhouettes before taking a moment to remember those who died.
He said: "The scarves mean the world to us, the one I placed on the silhouette was as a tribute for them all. It's very, very emotional."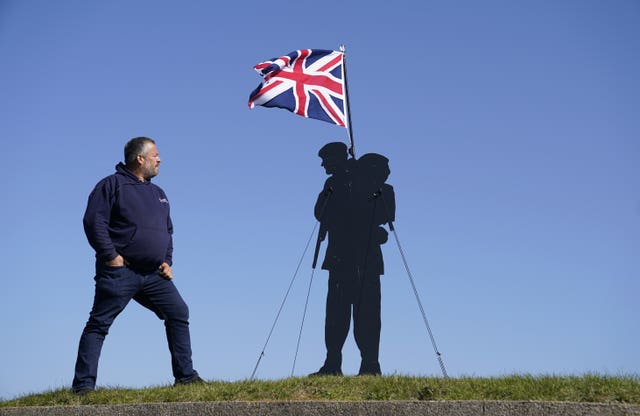 He added: "We have been overwhelmed by the amazing reactions from veterans and families of the fallen who have visited our installations. The installations seem to connect with people and evoke emotion.
"Our ethos is to value life, to understand and appreciate why we have our freedom, and to remember and pay tribute to those who have fallen so we can live the lives we have today – Standing With Giants is a great way of using art to do this."
Lizzie Puddick, public engagement manager at Fort Nelson, which is home to the Royal Armouries' national collection of artillery and historic cannon, said: "We are honoured to host this art installation and think it will be a striking reminder of how many lives were lost in the Falklands conflict."
She added: "The art installation is particularly pertinent to the Portsmouth area, which played such a significant role in the Falklands conflict and will offer people the opportunity to pay their respects to those who were lost, and consider the impact of the war on the lives of all the service personnel and civilians caught up in it."