Fox News has said it will no longer broadcast prime-time host Tucker Carlson, whose stew of grievances and political theories about Russia and the January 6 insurrection had grown to define the network in recent years and influence Republican politics.
Fox said the network and Carlson had "agreed to part ways" but it offered no explanation for the stunning move, saying that the last broadcast of Tucker Carlson Tonight aired last Friday.
The break comes less than a week after Fox agreed to pay 787 million dollars (£630 million) to settle a lawsuit with Dominion Voting Systems over the network's airing of false claims following the 2020 presidential election.
Carlson was also recently named in a lawsuit by a former Fox producer who said the show had a cruel and misogynistic workplace.
Carlson, who worked at both CNN and MSNBC earlier in his career, ditched his bow-tie look and quickly became Fox's most popular personality after replacing Bill O'Reilly in the network's prime-time line-up in 2016.
His populist tone about elites out to get average Americans rang true with Fox's predominantly conservative audience, even leading to talk about him becoming a political candidate himself one day.
He did not immediately return a message seeking comment on Monday.
"Tucker Carlson had become even bigger than Fox News," said Brian Stelter, who is writing an upcoming second book about Fox, Network Of Lies.
"His sudden ouster will have profound consequences for Fox News, for TV news and the Republican Party."
When Carlson's exit was announced during a live showing of the ABC daytime talk show The View on Monday, the studio audience applauded.
Host Ana Navarro then led the crowd in a singalong to a line from the song Na Na Hey Hey Kiss Him Goodbye.
His interpretation was denounced by many, including Senate Minority Leader Mitch McConnell.
Carlson has also been outspoken in questioning the United States' support of Ukraine following its invasion by Russian forces.
"It might be worth asking yourself since it is getting pretty serious: What is this really about?" Carlson said on his show.
"Why do I hate Putin so much? Has Putin ever called me a racist? Has he threatened to get me fired for disagreeing with him? Has he shipped every middle-class job in my town to Russia?"
Carlson had been expected to be among the first witnesses called if Dominion's case had gone to trial, but the two parties settled last Tuesday on the same day that opening statements were expected.
Dominion had contended that some Fox programmes had falsely aired allegations that the company had rigged the election against former US president Donald Trump, even though several Fox executives and personalities did not believe them.
Carlson's show was not among them; emails and text messages revealed as part of the lawsuit showed him profanely ridiculing one of the accusers.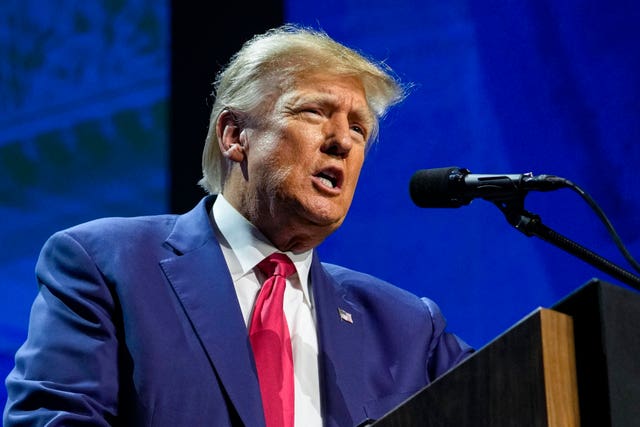 Carlson was recently named in a lawsuit filed by Abby Grossberg, a Fox News producer sacked after claiming that Fox lawyers had pressured her to give misleading evidence in the Dominion lawsuit.
Ms Grossberg had gone to work for Carlson after leaving Maria Bartiromo's Fox show.
Her lawsuit says that Ms Grossberg learned "she had merely traded in one overtly misogynistic work environment for an even crueler one – this time, one where unprofessionalism reigned supreme, and the staff's distaste and disdain for women infiltrated almost every workday decision".
On her first day of work at Carlson's programme, Ms Grossberg said in her lawsuit, she was met with large, blown-up photographs of Nancy Pelosi in a bathing suit with a plunging neckline.
Fox has countered with its own lawsuit, trying to bar Ms Grossberg from disclosing confidential discussions with Fox lawyers and saying in a statement that "her allegations in connection with the Dominion case are baseless".
Fox News Tonight will air in Carlson's 8pm ET prime-time slot, hosted by a rotating array of network personalities, for the time being.
"We thank him for his service to the network as a host and prior to that as a contributor," the press release from the network said.