A book by a keen runner who had long wanted to write about his mental health experiences but struggled to find a way to do so until he was caught in a mountainside storm will go on sale on Thursday.
Chris Carse Wilson began writing Fray in 2016 and kept it secret from everyone including his wife Elaine, 42, until it was finished.
But on Thursday, after around seven years, the novel will be released.
The debut author, 41, wrote as he was travelling on the bus to work at the V&A Dundee museum, but the idea started during a family trip to Glen Coe in the Scottish Highlands when the lifelong runner decided to try to tackle a Munro on a dark October day.
"Not long into the climb, the rain came on heavily and the wind really picked up – the conditions were painful, with raindrops spiking into my face and terrible visibility," he said.
"That combination of the wild, threatening weather and this abandoned building gave me the way into telling a story that is open and honest about mental health."
Mr Wilson, who lives in Newport in Fife, was diagnosed as autistic after completing Fray.
The author said: "My mental health challenges are inextricably linked to being autistic and how I experience the world, which for 40 years of my life I never understood.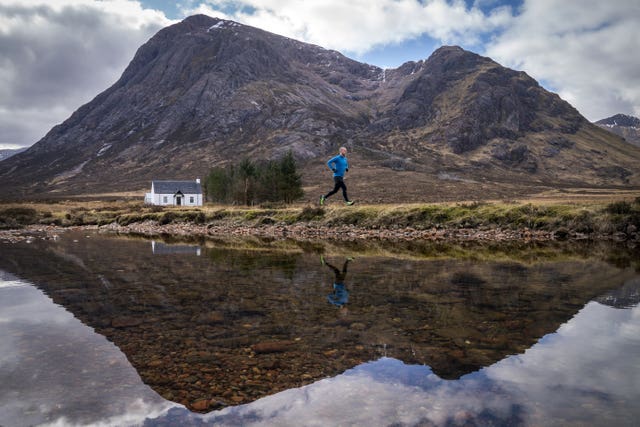 "But, and this is crucial, this book isn't really about me – it's about the mental health experiences we all face, and the ways we may struggle to understand or communicate these.
"At its heart, Fray is a book about love and self-acceptance, while also taking the reader on a wild adventure through the Scottish Highlands."
The book has won praise from actor Alan Cumming, Damian Barr and Kirstin Innes.