The Super Mario Bros Movie has led ticket sales for the fourth straight weekend in US and Canadian cinemas with 40 million dollars (£31.8 million) as the global haul for the Universal Pictures release surpassed one billion dollars (£795 million), according to studio estimates.
The Nintendo video game adaptation dominated the month of April in cinemas, smashing records along the way.
Over the weekend it faced little new competition, though that will change next week when Marvel's Guardians Of The Galaxy Vol 3 kicks off the summer movie calendar and is expected to move Mario to the side.
Studios spent the last week at CinemaCon in Las Vegas promoting coming blockbusters and promising big returns at the summer box office.
With a domestic total thus far of 490 million dollars (£389.7 million), international sales are even stronger.
The Illumination-animated release took in 68.3 million dollars (£54.3 million) overseas over the weekend, pushing its international haul to 532.5 million dollars (£423.5 million).
Second place went to Evil Dead Rise.
The horror sequel from Warner Bros held well in its second week, especially for a horror film, dipping 50% with 12.2 million dollars (£9.7 million).
Among the weekend's newcomers, the Judy Blume adaptation Are You There God? It's Me, Margaret fared the best.
The Lionsgate release grossed 6.8 million dollars (£5.4 million) in 3,343 locations, a decent start for the 30 million dollar-budgeted coming-of age tale written and directed by Kelly Fremon Craig (The Edge Of Seventeen).
As expected, Are You There God? It's Me, Margaret, about an 11-year-old (Abby Ryder Fortson) going through puberty, drew an overwhelmingly female audience.
Lionsgate also released the Finnish action movie Sisu in 1,006 locations.
The film, about a prospector (Jorma Tommila) whose gold is stolen by Nazis, grossed an estimated 3.3 million dollars (£2.6 million).
That was a solid result for the rare international film to receive a nationwide opening.
Reviews have been good (93% fresh on Rotten Tomatoes) for writer-director Jalmari Helander's film.
Sisu managed to surpass the weekend's most heavyweight new release: Big George Foreman: The Miraculous Story Of The Once And Future Heavyweight Champion Of The World.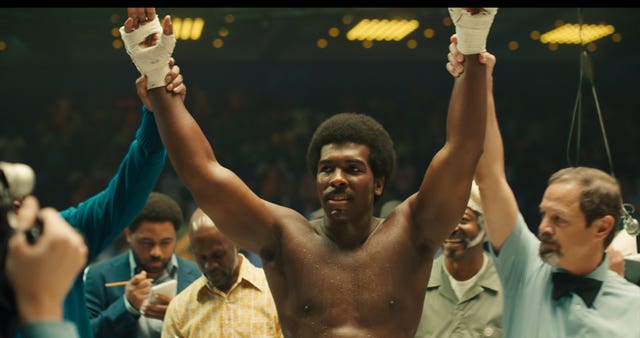 But after getting dinged by bad reviews, it did not punch very hard, with three million dollars (£2.38 million) in 3,054 cinemas.
Nida Manzoor's Polite Society, about a British-Pakistani high schooler (Priya Kansara) with dreams of becoming a stuntwoman, debuted with 800,000 dollars (£636,241) in 927 cinemas.
The Focus Features film, one of the standouts of January's Sundance Film Festival, blends kung-fu with Jane Austen in a story about London sisters.
One of the weekend's biggest successes was a familiar box office force.
The Walt Disney Company's re-release of Star Wars: Return Of The Jedi grossed 4.7 million dollars (£3.73 million) in just 475 cinemas.
Disney put Jedi (the 1997 special edition version) back into cinemas to commemorate the 1983 film's 40th anniversary.
– Estimated ticket sales for Friday through Sunday at US and Canadian cinemas, according to Comscore. Final domestic figures will be released on Monday.
1. The Super Mario Bros Movie, 40 million dollars.
2. Evil Dead Rise, 12.2 million dollars.
3. Are You There, God? It's Me, Margaret, 6.8 million dollars.
4. John Wick: Chapter 4, 5 million dollars.
5. Star Wars: Return Of The Jedi, 4.7 million dollars.
6. Dungeons And Dragons: Honour Among Thieves, 4.1 million dollars.
7. Air, 4 million dollars.
8. Ponniyin Selvan: Part Two, 3.6 million dollars.
9. The Covenant, 3.6 million dollars.
10. Sisu, 3.3 million dollars.