Kim Kardashian and Florence Pugh were among celebrities championing the Karl Lagerfeld-inspired dress code at this year's Met Gala.
The theme of the New York event was "In honour of Karl", with stars encouraged to take inspiration from his designs and personal aesthetic.
The German-born designer helmed some of the biggest houses in fashion – including Chanel and Fendi – and died in 2019.
Many of Lagerfeld's signature touches were present on the carpet – including pearls, black and white monochromatic colour palettes, a crisp white shirt and his favourite flower, the camellia.
The outfit was by Schiaparelli, with Kardashian telling Vogue: "What is more Karl than the iconic Chanel pearls?"
She said the night felt particularly special because Lagerfeld shot her first fashion shoot.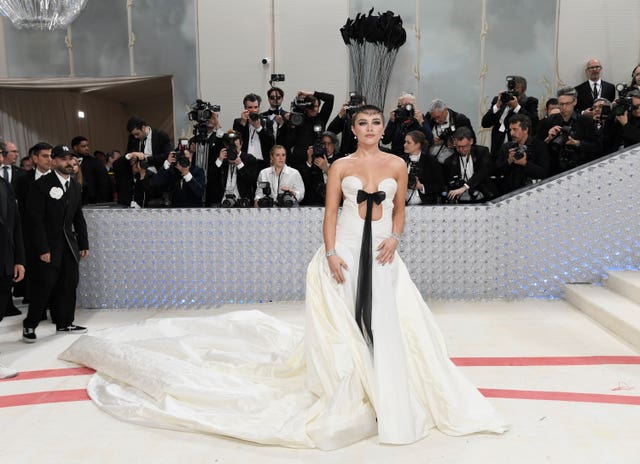 The new look is for her upcoming film We Live In Time and she told US outlets on the event's carpet: "I'm very happy to have it here with this look, it makes everything perfect."
Recently announced as the newest ambassador for Italian fashion house Valentino, Pugh wore a dramatic white gown by the brand with a long train trailing across the carpet.
Her ensemble played off Lagerfeld's love of a monochromatic colour palette with the white dress complemented by a black bow and a towering black feathered headpiece.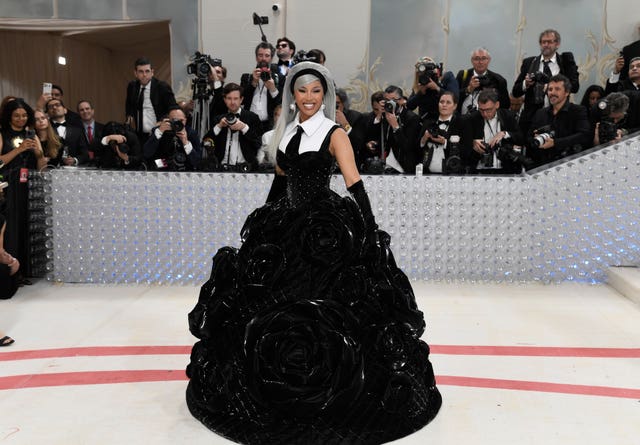 The skirt echoed some of Chanel's most famous symbols with the Boy Bag's iconic stitched diamond pattern and 3D flowers studded across.
And the top half of her look reflected Lagerfeld's personal aesthetic, with a white sleeveless shirt and tie topped off with silver hair.
"I'm representing the house of Chanel and Karl at the same time," she said of her second outfit of the night.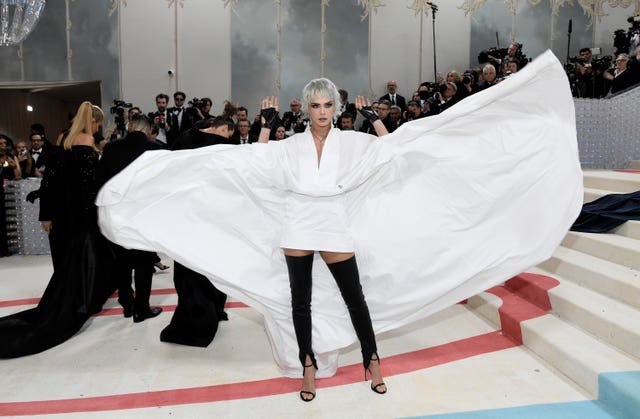 Her outfit was a nod to Lagerfeld's love of a crisp white shirt. Her outfit featured tuxedo shirt-style lapels, a cape and a miniskirt.
"It's a wonderful thing to be able to do this for such an incredible person, not only in fashion, but personally as a friend," she told Vogue.
"I owe him so much. And it's an amazing way to remember him."
She added: "He lives on, he's influenced so much not only in fashion."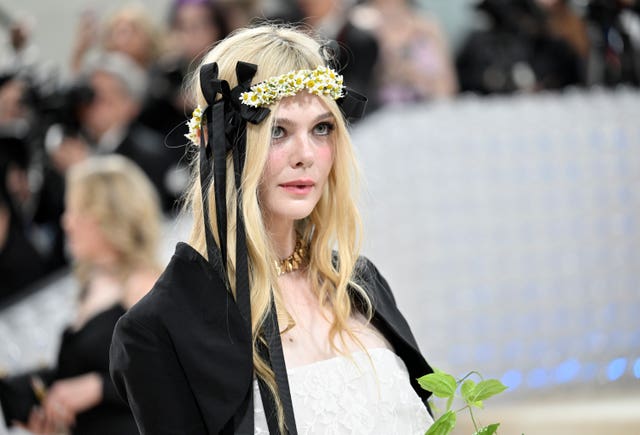 On the carpet, Fanning explained the look reflected an outfit she wore to model for Lagerfeld when she was 13.
After attending the 2011 autumn Chanel couture show, Lagerfeld selected Fanning to be photographed in a black jacket – which he then styled with the white dress she was wearing and a daisy crown.
In a nod to that look, The Great actor wore a bridal-inspired white gown with a black cropped tuxedo jacket and a daisy crown with black bows.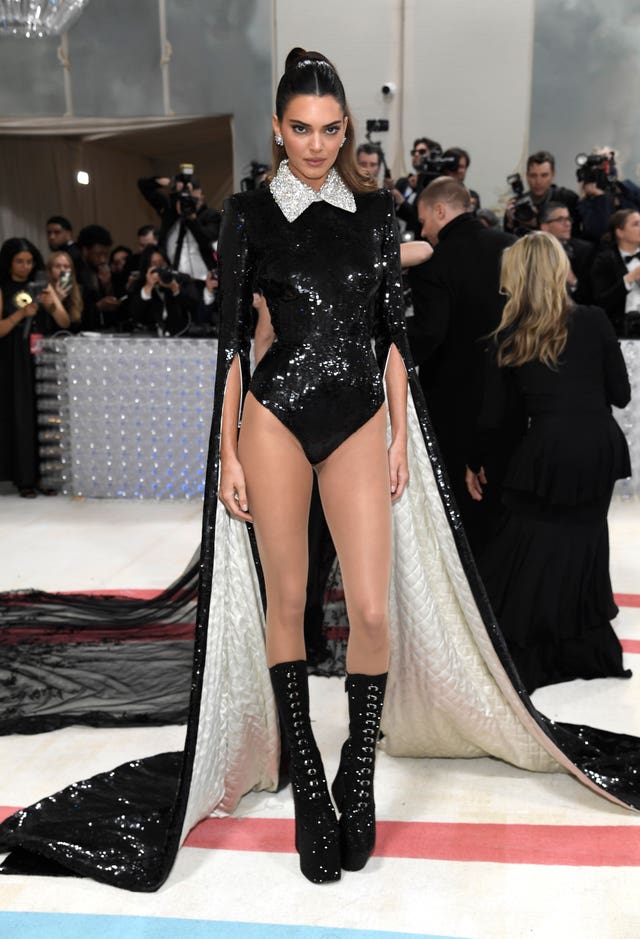 Kendall Jenner told Vogue: "I owe a lot to him and what he did for me, it was such a pivotal point in my career.
"I started working with him when I was really young… and he really embraced me, so I'm honoured to be here. I'm honoured to celebrate him."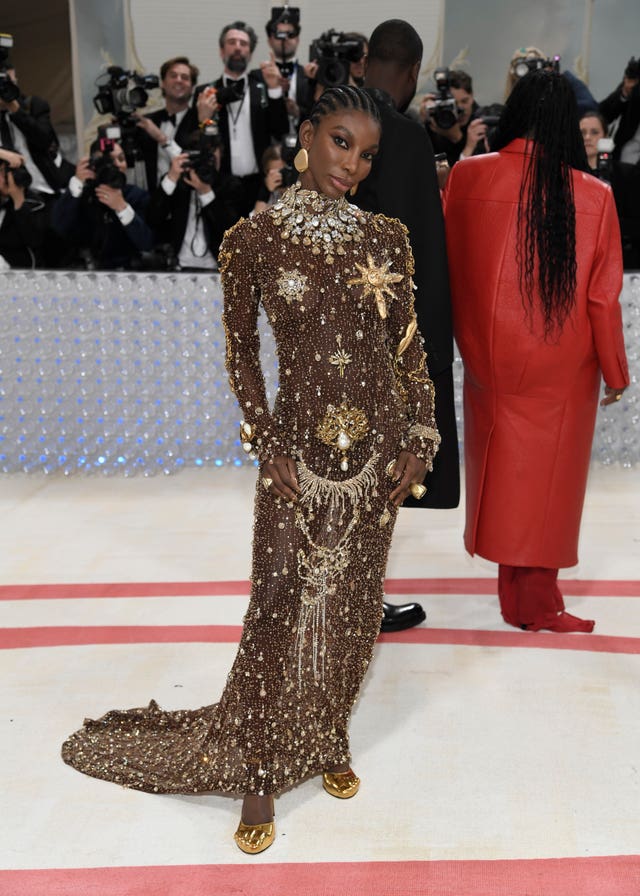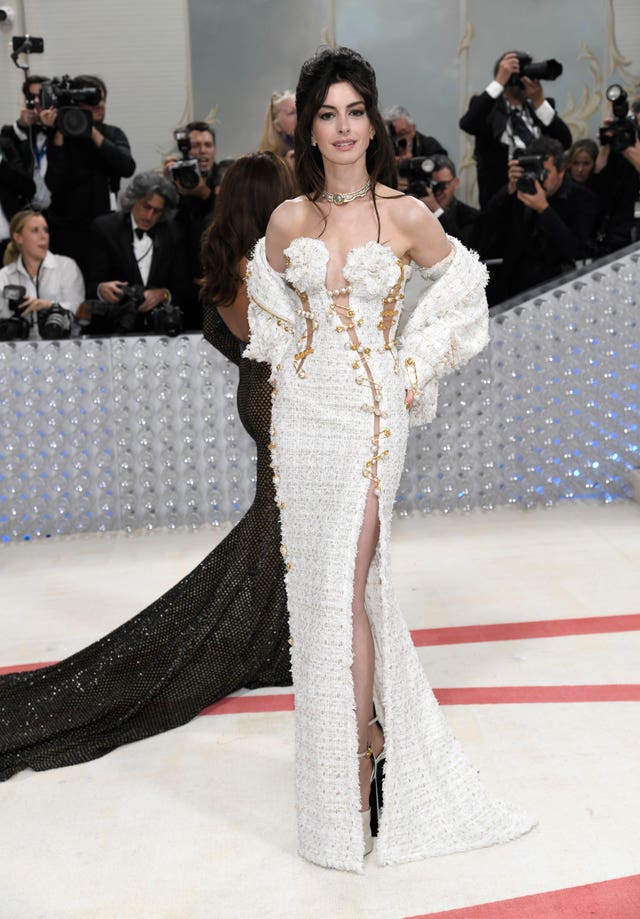 Every part of her look was carefully considered with Hathaway even wearing a camellia in her hair.