All Quiet On The Western Front screenwriter Lesley Paterson has voiced her support for Hollywood writers striking over pay and job security, describing them as "underpaid and marginalised".
The German language anti-war epic, based on the 1929 novel of the same name by Erich Maria Remarque, was one of the big winners of the 2023 awards season, claiming four Oscars and seven baftas including best film.
Scottish-born triathlete and filmmaker Paterson secured the rights to the novel for screen adaptation 17 years ago alongside producer Ian Stokell, and spent years campaigning for it to be made.
The strike, the first of its kind in 15 years, began on Tuesday with around 11,500 members of the Writers Guild of America (WGA) stopping work when their current contract expired.
Paterson said: "The writers are being underpaid and marginalised. With the development and progression of the streaming industry, everything has changed, and so the current situation is just not the same and things have to be negotiated and put straight.
"The reality is very, very tough. You are going from gig to gig and often you are pitching for a lot of projects, putting a lot of time and research in, and you are not getting paid for that.
"So when you do get a gig, maybe the gig lasts for three months or six months, and then you are on trying to find the next one. So it really is feast or famine. And with the wages going down for writers and the pay getting less, it is just getting tougher and tougher."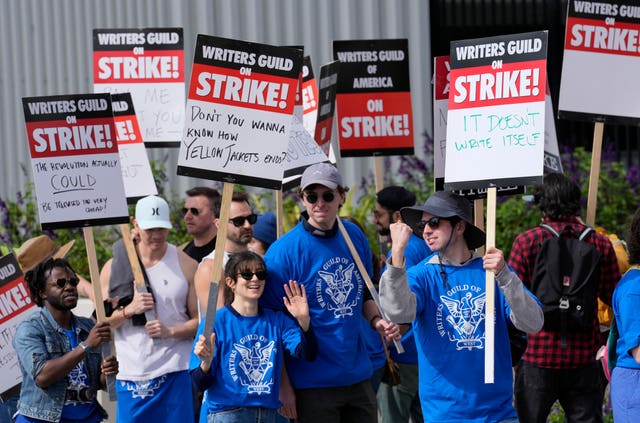 It argues the industry has been squeezed and conditions worsened amid the boom in streaming.
"I think everybody is really standing together because we will not budge on a lot of these points," Paterson said.
"We are being taken advantage of and as a consequence unfortunately I think it could go on for a while."
Earlier this week, Deadline reported British writer Jack Thorne, whose credits include the BBC's His Dark Materials and Harry Potter And The Cursed Child in the West End, had paused work on two projects in solidarity with the strikers.