Ukraine's Eurovision act has described the UK as "family" after arriving in Liverpool to the sight of sunflowers and their national flag.
The city has been transformed with public artworks and installations for the international music competition, which the UK is hosting on behalf of Ukraine amid the Russian invasion.
Electronic duo Tvorchi, made up of producer Andrii Hutsuliak and Nigeria-raised vocalist Jeffery Kenny, will compete in the grand final with their rousing song Heart Of Steel.
They are yet to meet the folk-rap outfit, who are scheduled to perform during the grand final on Saturday, and also said President Volodymyr Zelensky had not yet reached out to wish them luck.
Hutsuliak told the PA news agency they had been "impressed" by the tributes to Ukraine around the city.
"There are installations that are made by Ukrainian artists united with British artists, and they made those installations which is very cool.
"We feel like a whole big family and this makes our hearts warm, that we have such friends who can help us in these hard times. We feel very, very thankful for everything."
Kenny said finally rehearsing on the Eurovision stage at the M&S Bank Arena had "elevated" the message of their song.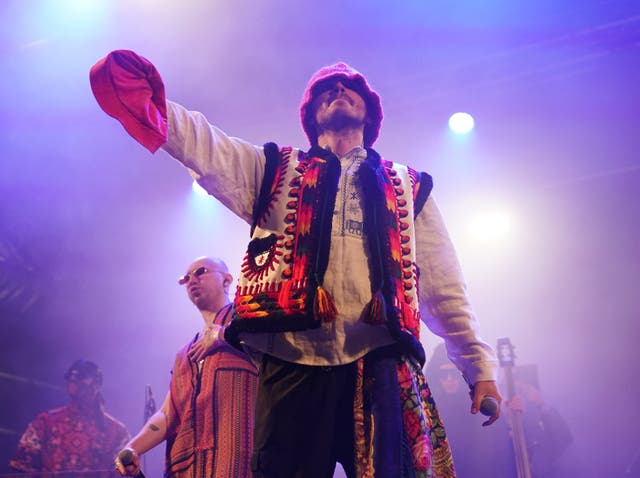 "It is about composing yourself and being able to just deliver that message, but being calm and collected."
Hutsuliak said Heart Of Steel can be "for anyone" because of its universal message of "being strong, being confident, being brave, and staying in a good attitude despite negative situations".
"We feel like everyone meets those situations in their lives," he added.
"Everyone has hard times because it's life – and we want to inspire people to be strong in those situations.
"Just bring a good attitude going forward and everything will be good. You can look at the Ukrainians. We have this war and this feeling that we are not safe. You don't know which minute the missile will strike you or your friends.
"We just want to show by our example that we are united, we are strong, and it's such a bad situation but we keep doing that. Every citizen of our country is making all the efforts to make the victory faster.
"From kids singing songs on the streets to raise money to give to volunteers who are buying drones or medicine or something else. Everyone is doing their best to make our victory faster. We want by our example to inspire people to be like that."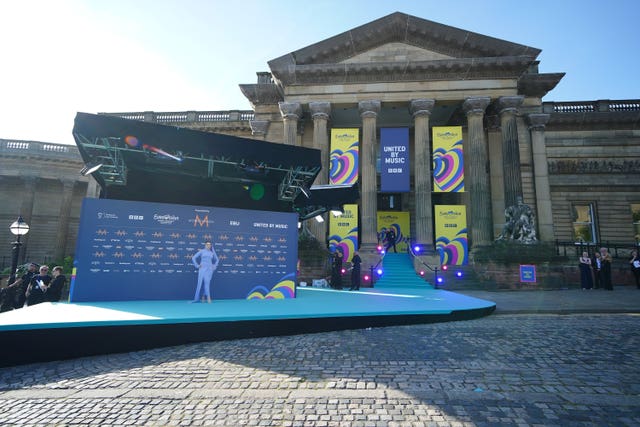 Their latest record fended off competition from international stars Kanye West and Drake to reach the top spot domestically.
The group formed after a chance meeting in the lakeside city of Ternopil in western Ukraine, where both were studying at the medical university.
Hutsuliak stopped Kenny, who had recently moved from Nigeria, in the street and asked if he could practice English with him, and Kenny accepted on the condition he could practise his Ukrainian.
When Russia invaded in February 2022, Kenny decided to remain in Ukraine in part so they could continue to make music together.
The competition kicked off in earnest on Sunday when Tvorchi were joined by the 36 other artists for the turquoise carpet welcome ceremony in Liverpool.
Mae Muller, 25, will compete for the UK with her track I Wrote A Song, which features tongue-in-cheek lyrics about a cheating ex-boyfriend and a propulsive dance beat.
A total of 37 countries are set to take part in Eurovision this year, with Ukraine automatically qualifying for the grand final as 2022 winners as well as the so-called "big five" – the UK, France, Germany, Italy and Spain – who each get a free pass because of their financial contributions to the event.
Wild Youth will represent Ireland with their song We Are One.
To reach the final on Saturday, the group will have to qualify from Tuesday's semi-final, which also includes entries from competition favourites Sweden and Finland.
The semi-finals will be broadcast on the BBC on May 9 and May 11, with the grand final on May 13.