Supporting small venues is key to the whole music industry, the Lightning Seeds' Ian Broudie said as a "Eurovision legacy" of gigs in grassroots locations was announced.
The National Lottery and charity the Music Venue Trust held a free concert for 15,000 people at Liverpool's Eurovision Village on Wednesday to launch the nationwide United by Music Tour, which will bring 150 gigs to locations across the country.
The National Lottery will contribute £1.5 million to venues through the tour, which it described as the single largest legacy initiative announced for Eurovision 2023.
Broudie, who was on the line-up for Wednesday's gig at the Pier Head along with stars including Miles Kane, said: "I think it's absolutely brilliant.
"I think it's so important for small venues, which are the starting place for all musicians to learn how to do what they do and for bands to start their career in.
"I think it's absolutely fantastic that the lottery and Music Venue Trust are helping out in such a great way and trying to keep them all afloat at this really difficult time for the entertainment industry after the pandemic."
The Liverpool-born singer, 64, performed at the Cavern Club for the first time on Tuesday as part of the week-long United by Music Tour of Liverpool, which is now being extended across the country.
He said the Beatles are the "prime example" of how starting in small venues can lead to success but it is the same for every band.
"It's a bit like the bees; you can't have ecology, you can't have the planet without the bees because it just all falls away, you need those little things to start off with and I think the small venues are like that," he said.
The Three Lions singer believes it is harder than ever for small venues to "make it work financially and exist".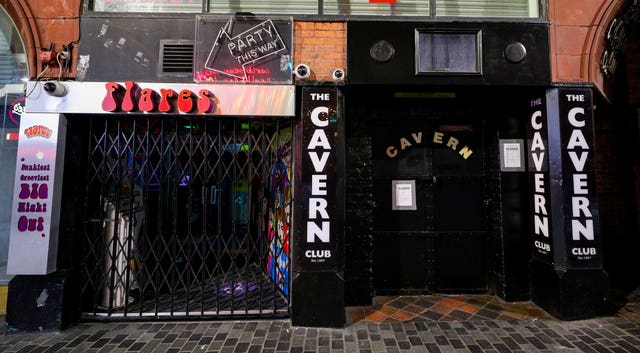 More than 20 artists, including Sleeper, The Dirty Nil, Opus Kink, Luke La Volpe, October Drift and Prima Queen will perform at small venues across the country as part of the United By Music Tour.
Louise Wener of Sleeper, who will play 12 gigs from Dumfries to Dover, said: "There's nothing like the intimacy and buzz you get in a smaller venue.
"Reconnecting with clubs we played coming up in the '90s is exciting. Supporting them now feels more important than it's ever been."
Kicking off in mid-June, it is hoped the gigs will extend the celebration of Eurovision across the country.
Broudie, who performed at the National Lottery's Big Eurovision Welcome on Sunday, admitted he was "not a big Eurovision watcher" but said the atmosphere in the city has been "great".
He said: "It's amazing how the city and Eurovision have sort of fitted like a glove.
"The people in the city, they've all really embraced it, everyone's got a smile on their faces, all these people are wandering round and it's been the perfect host, I think."