Eurovision fans praised Liverpool as they arrived for the contest's second semi-final.
Flags, sequins and Eurovision-themed costumes were all on show as crowds arrived at the M&S Bank Arena for the show on Thursday.
Urs Odermatt, 57, from Lucerne, Switzerland, and his friends, who all wore red Swiss-themed suits, said Liverpool was "the best" after travelling to many different countries to watch the competition.
Asked what made it so good, he said: "The pubs, the people, the prices, the beers and the weather.
"We're happy."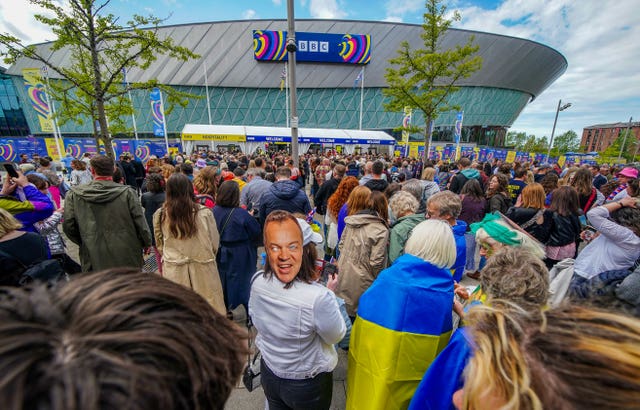 "I was at previous Eurovisions and I've never seen Eurovision plastered everywhere, it's in every restaurant, it's in every bar. People are so welcoming, people are so lovely."
Australian Jon Therkleson, 53, who lives in London, said it was the seventh Eurovision he and friends had travelled to.
He said: "Liverpool have pulled out all the stops to make this an amazing place for all the fans.
"Eurovision is visible everywhere and they've put on such a great event with the Eurovision Village."
Twins Shannon and Emilie Vose, 25, from Donaghadee in Northern Ireland, said they were at Eurovision for the first time and were ticking it off their "bucket list".
Emilie said the atmosphere was "incredible".
She added: "Way better than I think we even thought it was going to be, it seems to be every corner you turn there is someone from Eurovision past there which is brilliant as fans."
Chris Dugan, 44, from Auckland, New Zealand, who was wearing a silver dress and outfit in the style of former Ukraine entrant Verka Serduchka, said his time in Liverpool had been a "whirlwind".
"I've got a bit of a headache from last night," he said. "Too much dancing and singing and just a bit starstruck seeing Eurovision stars just walking through the streets."