Cabinet minister Penny Mordaunt has said she took "a couple of painkillers" before playing her part in the King's coronation.
As Lord President of the Council, she was responsible for bearing the Sword of State and presenting the Jewelled Sword of Offering to the King – the first time the role has been carried out by a woman.
The 50-year-old, dressed in a custom-made teal outfit with a matching cape and headband with gold feather embroidery, held and carried the pieces for the majority of the service at Westminster Abbey.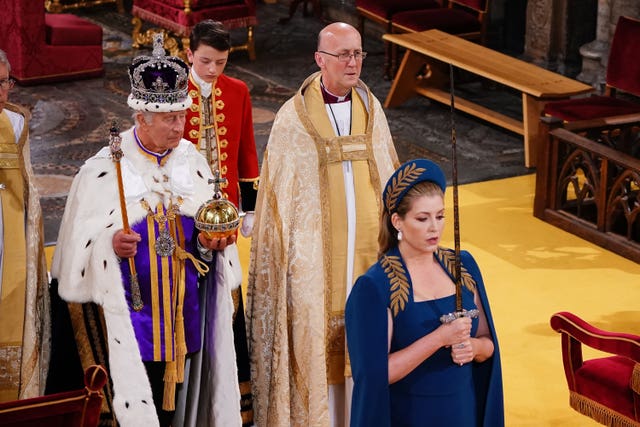 She said: "I think you want to make sure you're in good nick and I did take a couple of painkillers beforehand just to make sure I was going to be all right.
"We got through it and it was only half of the ceremony I had to carry the Sword of State, which is the really heavy one, and then I traded it in for the very exquisite Jewelled Sword of Offering, which is much lighter."
Ms Mordaunt also offered tips for anyone hoping to emulate her achievement.
She said: "I think it's practice, like anything you're preparing for, don't leave anything to chance. Have a good breakfast, wear comfortable shoes.
"I had a great team with me because the chaps who haven't got any plaudits at all, the former defence chiefs who were standing behind me with the other swords in the ceremony, we were all there supporting each other and we'd obviously been talking under our breath at each other during rehearsals, keeping each other going."
Its silver gilt hilt features the form of a lion and unicorn and the wooden scabbard is covered in red velvet with silver gilt rose, thistle and fleur-de-lys emblems.
Ms Mordaunt later exchanged the Sword of State for the Jewelled Sword of Offering and delivered it to the Archbishop of Canterbury.
The second sword was briefly clipped to the King's coronation sword belt and then, after a proclamation by the archbishop, Charles stepped forward and offered up the sword.
It was then placed on the altar and redeemed with "redemption money" by Ms Mordaunt.
The sword was later drawn from its scabbard and she carried it in its "naked" form before the King for the rest of the service.