Reigning Eurovision champions Kalush Orchestra have said President Volodymyr Zelensky would have only wanted to thank the British people for hosting the contest if he had been allowed to speak during the grand final.
The Eurovision Broadcasting Union, which produces the event, has barred Mr Zelensky from giving a remote address to the event's millions of viewers on Saturday night over concerns it could politicise the contest.
Kalush Orchestra will open the 2023 grand final with a performance titled Voices Of A New Generation, which will include the folk-rap group's hit song Stefania.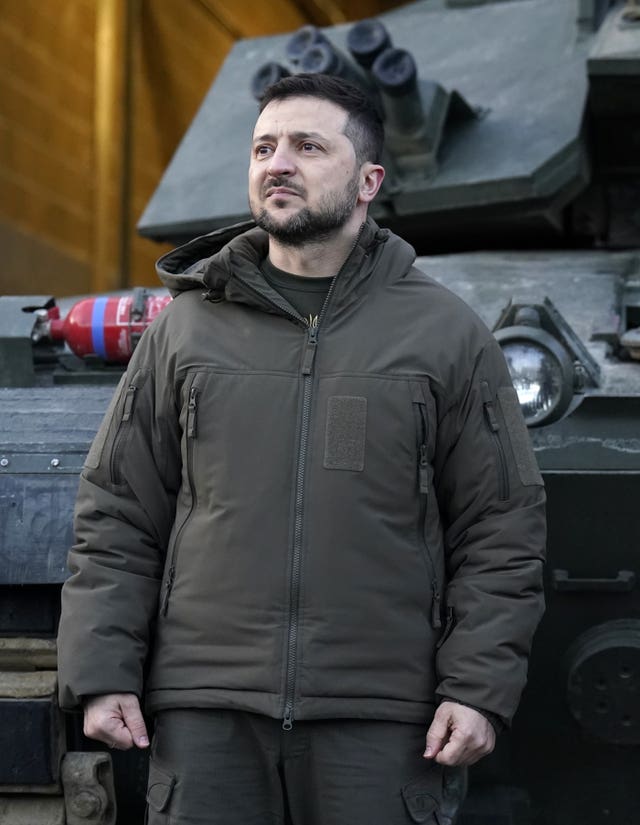 "And so actually I think it would have been nice for him to talk."
Muzychuk, who spoke alongside backing vocalist Sasha Tab and MC KylymMen, hailed Liverpool for hosting Ukrainian culture throughout the contest.
"We saw the city, we saw lots of Ukrainian culture and we know that there are also a lot of Ukrainian singers who are also going to be here," he said.
"We are very happy we can perform with them on the same stage."
Electronic duo Tvorchi, made up of producer Andrii Hutsuliak and Nigeria-raised vocalist Jeffery Kenny, will represent Ukraine during this year's grand final with their song Heart Of Steel.
Muzychuk said they had not yet had the chance to meet the pair but said he hoped he could offer them advice before the final.
He said: "We haven't had the opportunity to meet them yet but we are hoping that everything that they have planned will be successful.
"I think we know that they have been practising a lot and we are hoping that today or tomorrow we will get to see them and talk to them."
They said their performance during the grand final would be "very cool" and "very vibrant".
He added that since their triumph at the contest last year the group has had "a special mission" to "show the culture that the Russians are trying to wipe out".
He added that the lesson they have learned over the past 12 months has been about "staying strong and going forward achieving our aims".
The Eurovision grand final will air live on BBC One from 8pm on Saturday.