Broadcasting union Bectu has warned of a crisis in the unscripted television industry after reports from UK freelancers about an "unprecedented" lack of work.
The union, which represents more than 40,000 staff, contract and freelance workers in the media and entertainment industries, issued a statement of support for freelancers and called for urgent action.
A motion carried at Bectu's national conference in Eastbourne on May 14 noted that 2023 had been "unusually quiet" for freelancers in the unscripted genres.
Head of Bectu Philippa Childs said many freelancers had already faced "incredible challenges" brought on by the coronavirus pandemic and the cost-of-living crisis and were "struggling to simply get by".
"We are deeply concerned at increasing reports of unscripted freelancers struggling to find work, with many telling us this is the longest period without work that they have ever experienced," she said.
"Freelancers are critical to the success of the UK's world-class film and TV production sector, however, at times it can be a lonely and uncertain profession.
"Many have already faced incredible challenges brought on by the pandemic and the cost-of-living crisis, and work long hours to the detriment of their mental health, family lives and work/life balance.
"Now, many are struggling to simply get by."
Bectu said the lack of work was "uncharacteristic" for the industry and had caused more freelancers to consider leaving.
The union said it was "very concerned" there would not be a "sufficient workforce to meet demand when production returns to more normal levels".
It is urging industry stakeholders, including broadcasters, streamers and production companies, to come together to address the issue "as a matter of urgency".
"The 'feast or famine' nature of the industry – whereby there may be an overabundance of work one minute and none the next – is an incredibly challenging environment to work in and we urge the industry to come together not just to address the current crisis, but to commit to long-term change," Ms Childs said.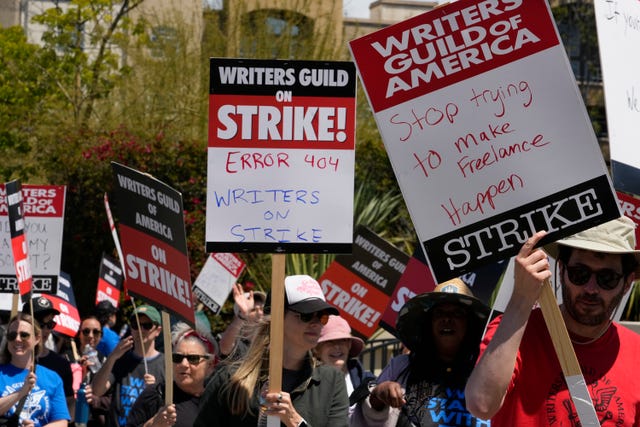 "Talented workers who are the backbone of the industry are suffering, and we must not underestimate the damaging impact of this system, both financially and in terms of mental health and wellbeing.
"Their skills, talents and livelihoods must be better respected."
It comes amid an ongoing strike by Hollywood writers, which has seen more than 11,000 members of the Writers Guild of America (WGA) stop work after their contracts expired.
The WGA has also voiced concerns about the effects of increased streaming content, which it says has affected writer pay and show exclusivity.