A "magnificent" 3D replica of Earth as seen from space has been unveiled in a Glasgow church.
Seven metres (nearly 23ft) in diameter, Gaia, created by the renowned British installation artist Luke Jerram and named after the Greek goddess of Earth, has gone on show at Mackintosh Queen's Cross Church, the only church ever designed by Charles Rennie Mackintosh.
The globe is around 2.1 million times smaller than the real Earth, with each centimetre of the internally lit sculpture representing 21km of the world's surface.
Formed using detailed Nasa imagery of the Earth's surface, the artwork in the church in the city's Maryhill area provides the public with the opportunity to see our planet floating in three dimensions.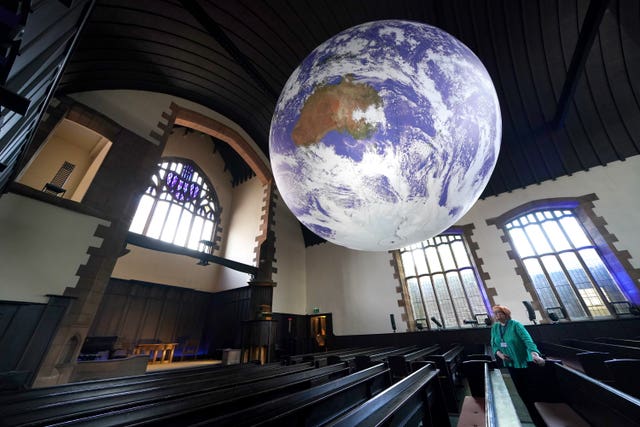 Director Stuart Robertson remarked: "We're thrilled to unveil the magnificent Gaia installation and welcome visitors to see this stunning spectacle and enjoy our exciting 50th anniversary events.
"We have a packed programme of exhibitions, concerts, talks and film nights under Gaia.
"Whether you've been to Mackintosh Queen's Cross before, or are visiting for the first time, we look forward to welcoming you."
Gaia will be on show at Mackintosh Queen's Cross until June 24, during which time a number of 50th anniversary events are scheduled to take place.
These events include talks about Glasgow's history, concerts featuring artists such as Amy May Ellis and Siobhan Wilson, several film screenings and a special exhibition showcasing some of Charles Rennie Mackintosh's unbuilt designs.