A masked man has attacked a statue on the front of the BBC's Broadcasting House in central London with a hammer and chisel.
It comes days after repair work was started to the previously-attacked Grade II listed statue, of Prospero and Ariel from Shakespeare's The Tempest by Eric Gill, who is said to have sexually abused two of his daughters.
A man wearing a Spiderman mask seen on scaffolding surrounding sculpture on Saturday.
He had also strung up a banner criticising the corporation.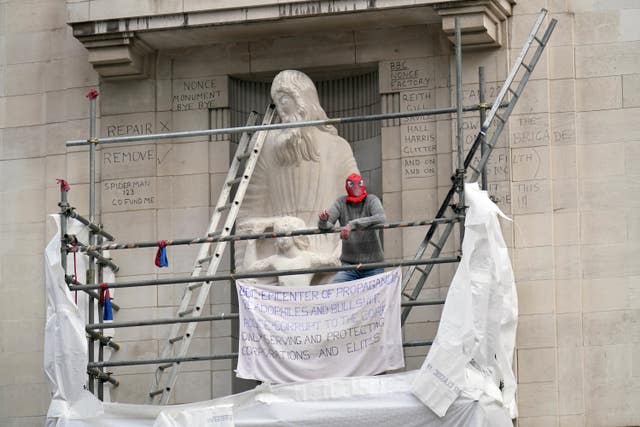 The statue has been on display at Broadcasting House since 1932 but was attacked last year amid calls for it to be removed.
The Metropolitan Police were called at around 4.15am on Saturday to reports of a man climbing scaffolding at premises in Portland Place.
A police spokesman said: "The man was reportedly damaging a sculpture.
"Officers attended the location.
"It has not been possible to safely detain the man given the circumstances of the incident, including the height.
"Specialist officers have been called to the scene."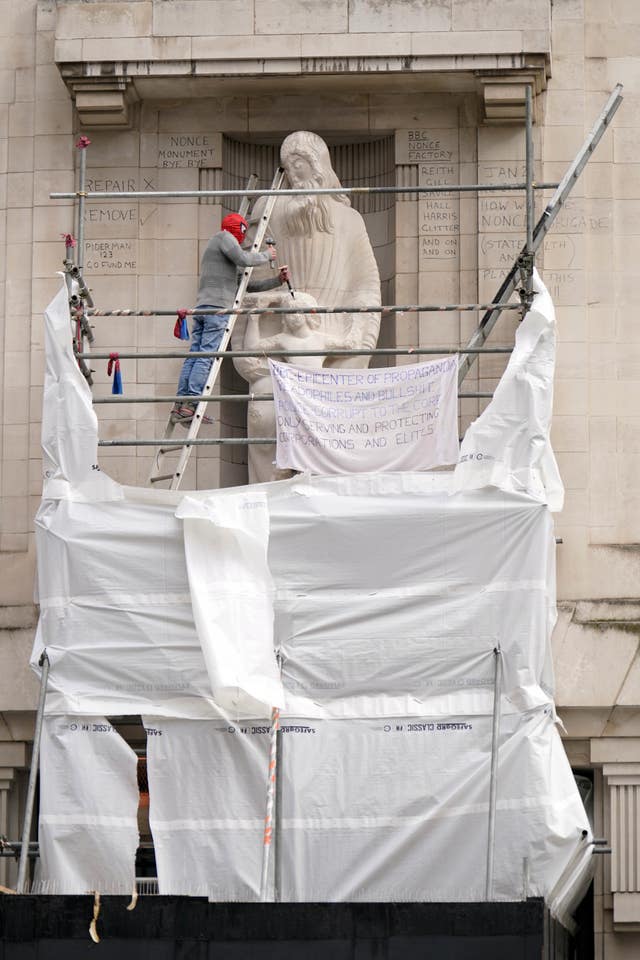 On Tuesday, the BBC said after "careful consideration" taking into account the historical and cultural significance of the building and after discussions with leading cultural organisations such as Historic England, the repair work was agreed with all costs covered through the corporation's insurance and not the licence fee.
Scaffolding went up around the building on Tuesday with expert stonemasons beginning to restore the work, carved from Caen stone, a type of limestone quarried in north-west France.
The broadcaster said the repair work would be used to provide additional context about the artwork and  Gill, and that members of the public would also be able to access a QR code nearby.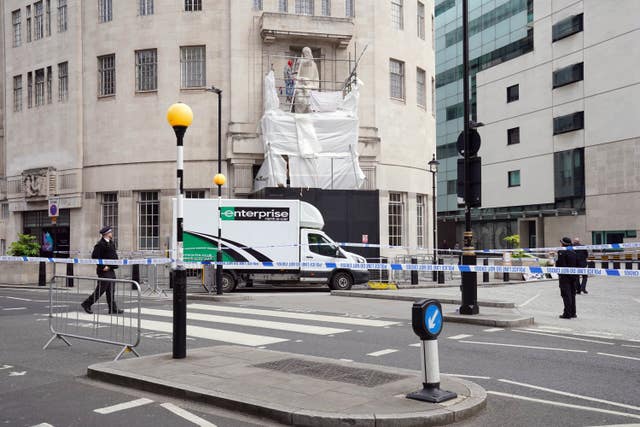 "We have a responsibility to maintain and preserve the building for generations to come.
"Alongside this, Gill's abusive behaviour and lifestyle are well documented and the BBC in no way condones his behaviour.
"So while it is right that the fabric of the building is restored, we must also ensure people are fully informed about the history connected to it."
Gill was among the most prominent sculptors of the 20th century until his death in 1940 but his diaries, published much later, detailed the sexual abuse of his daughters.
A biography on the Tate museum website said: "His religious views and subject matter contrast with his sexual behaviour, including his erotic art, and (as mentioned in his own diaries) his extramarital affairs and sexual abuse of his daughters, sisters and dog."
More than 3,000 people have signed a petition demanding the removal of the sculpture on the website of political activist group 38 Degrees.
The repairs had been set to be completed by the end of June.