TV personality Fred Sirieix was seen getting hands on in a prison kitchen as he launched his charity's third restaurant staffed by prisoners.
The First Dates presenter and maitre d'hotel was speaking as his charity, The Right Course, launched its newest training restaurant, Bertie's, in HMP Lincoln on Monday.
The eatery, named after the Category B prison's deputy governor of more than 30 years, will be operated by inmates and will be the first in the country to allow staff and customers to be joined by families to share a meal during visiting hours.
It comes after The Right Course opened similar outlets in HMP Wormwood Scrubs, in west London, and HMP Isis, in south London, with plans to open five more this year.
Mr Sirieix, 51, told guests that the scheme hopes to teach inmates the "ABC of restauranting".
"We have to teach people how to do the job like a pro.
"Hard work will always beat talent. Enthusiasm is half the battle."
He added: "We are going to do everything we can in order to equip them for life on the outside and that means these guys have to be as good as anyone in the world."
The scheme offers selected inmates the chance to achieve City & Guilds Level 2 Diploma in catering and front-of-house qualifications in partnership with the training provider, PeoplePlus.
Guests enjoyed smoked salmon and cream cheese on bread for starters, a lasagne and sharing platters for mains and sticky toffee pudding with ice cream for dessert, with staff also on hand to serve drinks.
Mr Sirieix said: "Today was great. It was a baptism of fire. I got a bit excited but I can't help that."
One said: "We've been working as a team, it's been hard as well but we have done it."
Another added: "This course has made me more confident and helped me speak to people better."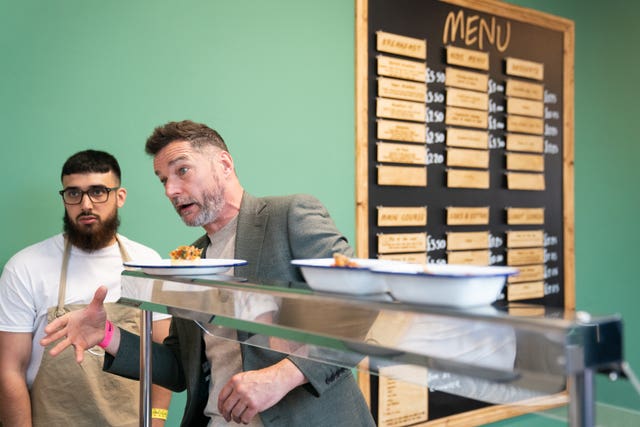 He added: "We have people here who are idle, doing nothing. Let's keep them busy, but more importantly, it's about giving people pride and a sense of satisfaction.
"You feel good, and you feel like you have done a good job and feel excited and proud of yourself."
The initiative also hopes to both reduce reoffending among inmates and plug the shortage of hospitality staff across the country, with the Office for National Statistics claiming that there are 132,000 vacancies in the industry as of this month.
Damian Hinds, the prisons minister, said: "Giving prisoners a better chance of getting a job works – it cuts crime, saves taxpayer money and protects the public.
"Our work with The Right Course and Fred Sirieix is helping prisoners learn skills from the best in the industry that will help them find work when released."
The Ministry of Justice said that 56% of those trained and released at The Right Course's 'Escape' restaurant in HMP Wormwood Scrubs have since found employment.