Environmentalist Chris Packham has been awarded £90,000 in damages after winning his High Court libel claim over denied allegations he misled the public into donating to a wildlife charity.
The TV naturalist sued three men for libel over nine articles which included claims he "manipulated" people into donating to rescue five tigers while knowing the animals were well looked after.
Dominic Wightman, editor of the online site Country Squire Magazine, defended the libel claim along with writer Nigel Bean and a third man, Paul Read.
In a judgment on Thursday, Mr Justice Saini ruled in Mr Packham's favour against Mr Wightman and Mr Bean.
As well as being ordered to pay the five-figure sum in damages, Mr Wightman and Mr Bean were also ordered to pay £400,000 towards Mr Packham's legal fees within 28 days.
However, Mr Justice Saini found that Mr Read "had no editorial or equivalent responsibility for the statements complained of or the decision to publish them" and dismissed the claim against him.
Mr Packham will have to pay some of Mr Read's legal bill, with the amounts to be assessed at a later date.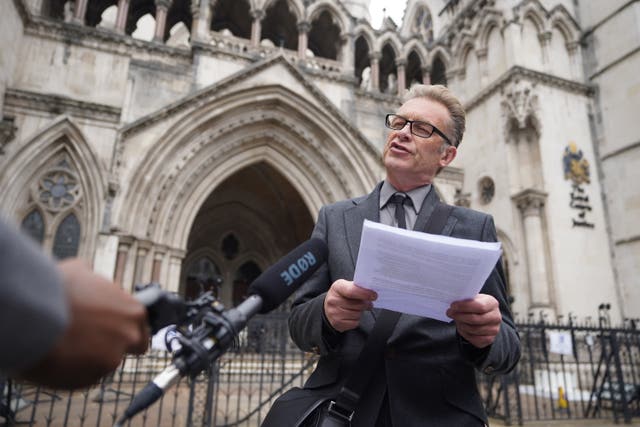 However, Mr Justice Saini said that Mr Wightman and Mr Bean "fail to come even close to establishing the substantial truth" of the allegation Mr Packham defrauded anyone.
He added: "The approach revealed by the evidence is that rather than approaching the task with an investigative mind, these defendants targeted Mr Packham as a person against whom they had an agenda."
Mr Packham was also accused of dishonestly raising money for the charity at the start of the Covid-19 pandemic while knowing it was due to receive a £500,000 benefit from its insurance.
Mr Justice Saini said the allegation was "gratuitously thrown in" as part of "increasingly hyperbolic and vitriolic smearing" of the presenter.
The presenter's barrister Jonathan Price – who once described the allegations as "tiger fraud" – previously told the High Court in London that some of the articles accused Mr Packham of having an "obvious nastiness" and playing the "Asperger's victim card".
The judge said that Mr Wightman and Mr Bean had "used this litigation as a device to introduce offensive material to smear Mr Packham".
He added: "These were not the product of any acts of responsible journalism."
"There is not a shred of evidence in support of the offensive allegations," Mr Justice Saini said, adding: "I find they were made in order to scare off Mr Packham from seeking recourse in a public hearing for the libels."
Mr Packham had also previously been accused of forging a death threat he received in a handwritten letter, though this allegation was withdrawn during the trial.
Mr Justice Saini noted that "even a cursory examination of the handwriting" showed "obvious" differences between the presenter's writing and the death threat letter.
The judge said that the defendants had instructed an expert who claimed that the threat was written by Mr Packham, after examining a 'sample' of his writing from Companies House.
He continued: "The problem was that the sample from Companies House was not Mr Packham's handwriting. It was the handwriting of his accountant… there is no suggestion that the accountant had authored the death threat."
The judge added that while this "critical error" was pointed out last November, "they refused to withdraw the allegation".
The court also heard that Mr Packham said he fears for his and his family's security, and that in October 2021, "masked attackers" set fire to a car and burned down the gate to his home.
In his written evidence, he said: "I do go to walk my dogs in the woods and wonder: is today the day that a psychopath fuelled by all this hate turns up and kills me."
Mr Justice Saini said that while the men in the claim "did not themselves undertake wider acts of harassment to which he makes reference in his evidence, I accept that their unsubstantiated claims would have misled and agitated vocal and sometimes violent groups".
Speaking outside of the Royal Courts of Justice on Thursday, Mr Packham called the judgment "a full and frank vindication of my innocence".