British broadcasters Emily Maitlis and Jon Sopel have announced they will be launching their hit podcast The News Agents in America.
The veteran former BBC journalists appeared at The Podcast Show at the Business Design Centre in London on Thursday, on the one-year anniversary of their Global player podcast beginning, to reveal The News Agents USA will debut on June 20.
Maitlis, who joined the BBC in 2001 and presented Newsnight from 2006 until she left last year, said of the new podcast: "It's going to be the same fields, big analysis, big names.
"All the cultural things which are happening, gun laws, abortion laws… It's a full-on circus from now until 2024 with the presidential election, we will be tapping into all that… we get excitable talking about America."
  
The 52-year-old, who made headlines with her interview with the Duke of York in 2019, added: "I remember this time a year ago feeling like the biggest fraud ever, we had an idea but no name.
"We had left mainstream broadcasting – jobs where we know what we were doing – now it's a podcast, it's visuals, it's a brand. It feels so rewarding." 
Meanwhile Sopel, who joined the BBC in 1983 and was formerly its North America editor, said: "When we sat here last year I didn't realise you start a podcast with zero listeners.
"To start with zero suddenly seemed terrifying. We got going at the end of August, and God bless Boris Johnson and Liz Truss, I mean they are just the patron saints of The News Agents." 
Sopel and Maitlis worked together as co-hosts of the BBC's Americast podcast which launched in 2020 and also covered the biggest news events in the US.
The spin-off podcast will have Dino Sofos, former head of BBC News Podcasts, as executive producer.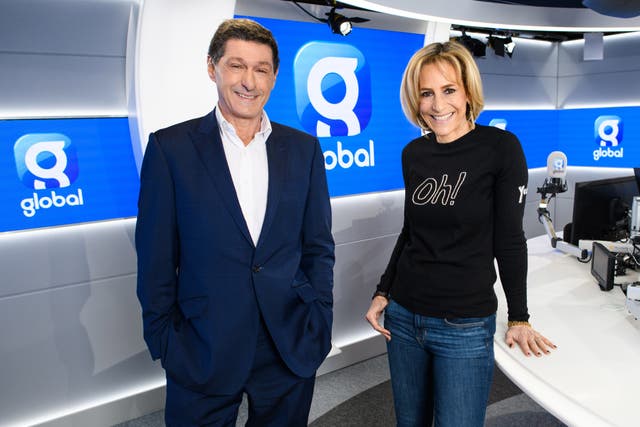 Sopel also mentioned an encounter with a celebrity fan, saying: "I was walking along the street and a guy was walking his dog, he came bounding over and he shows me his phone saying 'I'm listening to you right now' and shows the picture of the three of us.
"When he looks up, I realise it's Tom Hiddleston."