Knife culture is now almost a "permanent feature" of some young people's lives, a criminology professor has said after four people were fatally stabbed in less than 24 hours over the New Year.
David Wilson, who is also a former prison governor spoke after a 17-year-old boy and two men, aged 18 and 20, were attacked on December 31, followed by a third man, 20, in the early hours of the following morning.
It came as a senior police officer said on Tuesday that the unrelated attacks in London were "truly unusual, extraordinary and very tragic".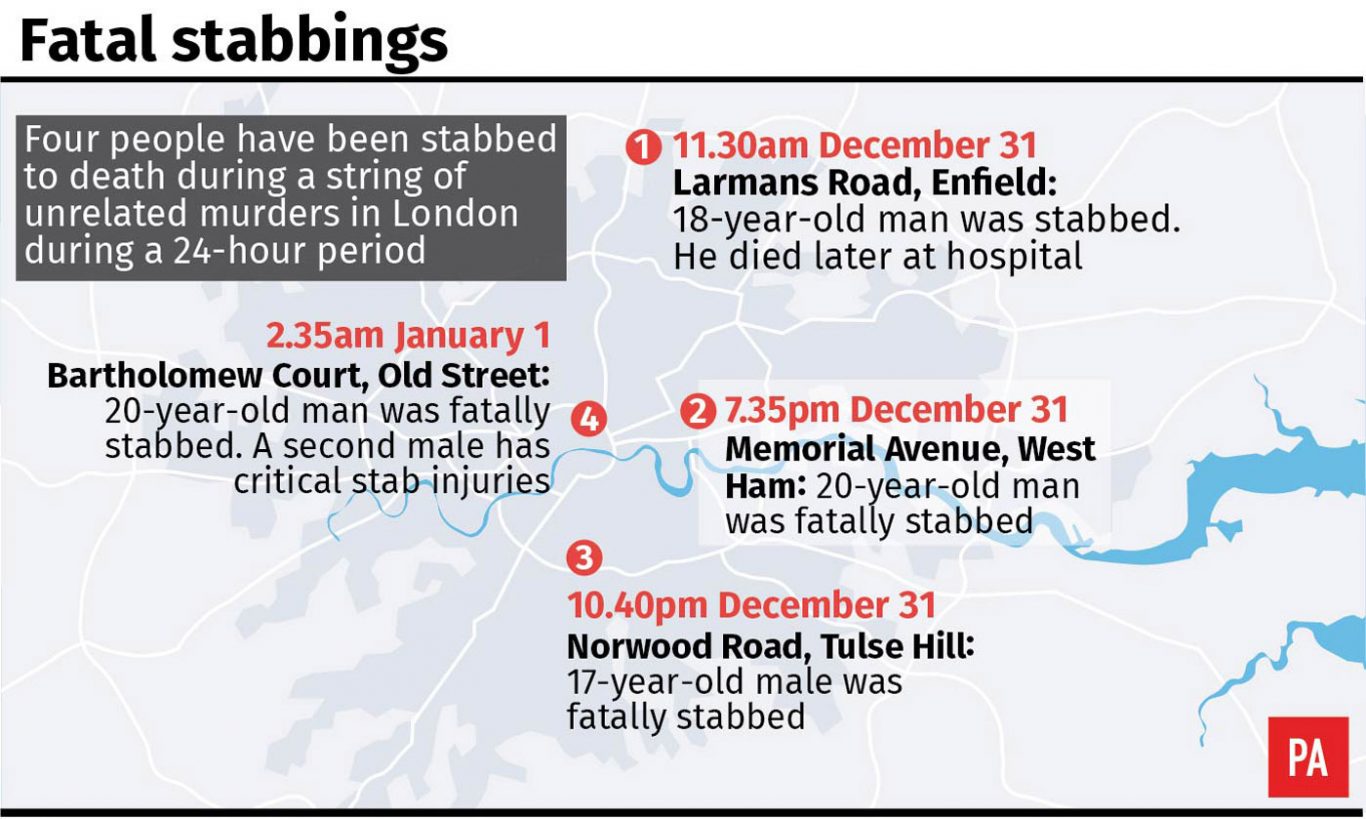 Mr Wilson, professor of criminology at Birmingham City University, told the Press Association: "Knife crime and knife culture is almost now a permanent feature of some young people's lives in most of our major cities."
He said young people are often afraid, and feel as if they are not listened to or protected by authority figures, so turn to gangs for safety.
The former prison governor said: "The label 'gang' has obviously really negative connotations when it's used popularly but sometimes a gang can provide an element of stability and support and comfort.
"We have got to start working out why a number of young men feel that being a member of a gang gives them something that's missing in other aspects of their lives."
Sunday's stabbings took the number of people stabbed to death in London last year to 80, Scotland Yard confirmed. Of those, 18 involved victims under the age of 19.
Metropolitan Police Deputy Commissioner Craig Mackey told PA that the spate of stabbings was "truly unusual, extraordinary and very tragic."
Scotland Yard said a 19-year-old man has been arrested on suspicion of murder over the New Year's Day stabbing at a house party in Islington, north London.
Five males, aged between 17 and 21, have been arrested in connection with the death of the 18-year-old in Enfield, also in the north of the capital.
Sunday's stabbings took place at 11.30am in Larmans Road, Enfield, 7.35pm at Memorial Avenue in West Ham, east London, and 10.40pm in Norwood Road in Tulse Hill, south London.
The New Year's Day stabbing occurred at Bartholomew Court, Old Street, in the City.
Prof Wilson added: "I think it's got worse, I think we periodically want to feel that somehow we are doing something to help…overall we aren't really getting a grip on this.
"There is something specifically about how young men perform masculinity and again that's something that we have to help young men understand and come to better conclusions about than simply allowing them to feel that they perform masculinity by being violent or being prepared to be violent should the need arise.
"(In the past) they would join things like the shipyards or the railways or the steelworks.
"They would find a job or an apprenticeship and those kinds of openings and opportunities simply no longer exist in the numbers that they used to exist a generation, two generations ago."