A social worker who drove to safety as waves broke around her during Storm Eleanor said it was "like a walk in the park".
Social media footage showed Selina Callaghan motoring along the surging waterline towards safety and a car park exit.
The 28-year-old, from Donegal in north-west Ireland, said she was "cool, calm and collected".
She said: "Yesterday was like a walk in the park, fire is much more harmful than water, you just need to respect the water and it will respect you."
Irish authorities had issued their second highest alert.
Tens of thousands of homes and businesses across the island lost power overnight as the storm swept in from the west.
Winds of up to 100mph wreaked significant damage and caused flooding on the Atlantic coast.
Pictures from Galway city centre on Tuesday evening showed cars ploughing through high water and business owners struggling to protect their properties.
Rescuers waded through knee-high water.
One car bobbed in the high coastal waters and drivers attempted to reach safe ground.
Ms Callaghan, from Kerrykeel, near Letterkenny, only returned to the country 10 weeks ago after spending five years in Australia.
She and a couple of friends were in Galway City for the new year and were watching the storm nearby.
They moved their cars to the back of the car park as the water came closer.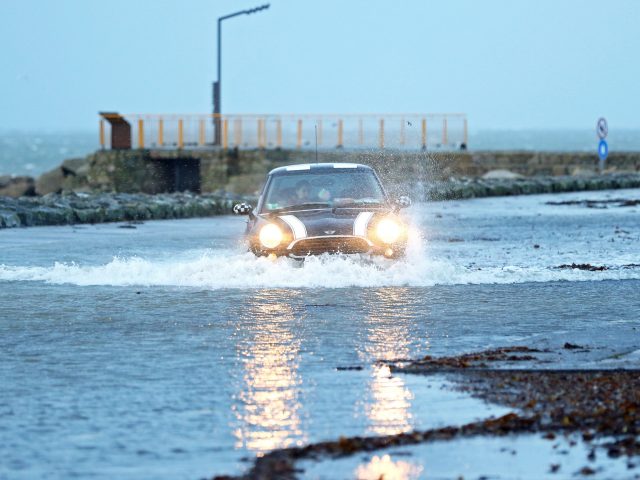 "It happened that quick, by the time we parked there literally the waves were coming, the water was getting deeper and deeper, nearly coming into our cars.
"The panic stations were on for my friend.
"I was like, 'just relax'."
She said she was not afraid.
"Only by the grace of God I get through everything. I was at the beach because the beach is my favourite place in the whole world.
"I love the beach because it makes me calm, I feel close to God there. I know that he will look after me, I don't need to fear."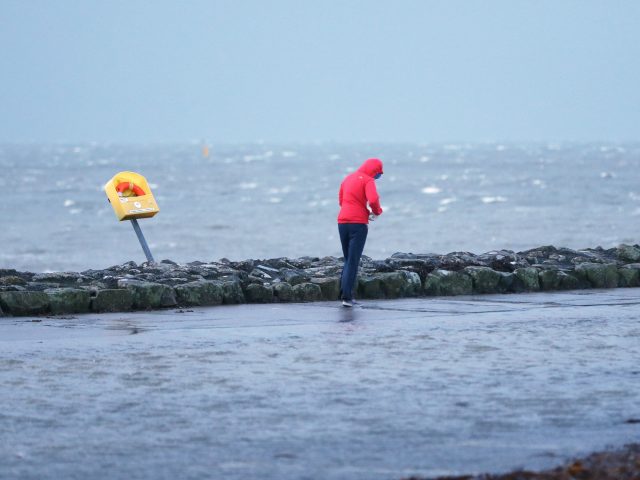 She said she knew exactly what she was doing.
"I would not put myself in a risky situation, I am literally heading out of a risky situation, I am not putting myself at any form of risk."
Some cars were abandoned in Oranmore near Galway as roads were blocked while others in a car park in Salthill were partially submerged.
At least 55,000 properties experienced blackouts overnight as the winter storm damaged the network.
County Mayo was hardest-hit.
A statement from power supply company ESB Networks said its staff worked in difficult conditions to get customers re-connected.
It said counties worst affected in the Republic included Galway, Mayo, Sligo, Leitrim, Cavan and Monaghan.
Across the island, fallen trees forced road closures.