London cabbie rapist John Worboys is to be released from prison, sparking outrage from charity campaigners.
The former stripper and adult film star was jailed indefinitely in 2009, with a minimum term of eight years, for drugging and sexually assaulting women passengers.
Charities have called the time served "woefully short" and said his release "beggars belief".
He was found guilty of assaulting 12 women during an 18-month reign of terror in the capital.
But police said in 2010 that his alleged victims numbered 102 after more people came forward following his trial and conviction.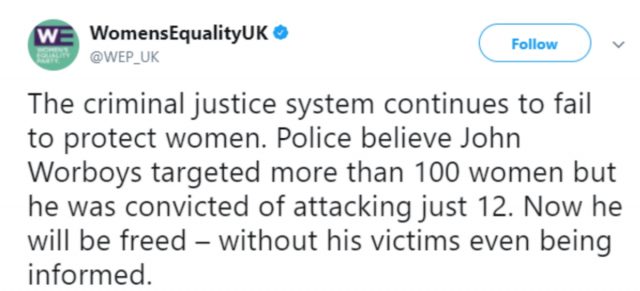 The allegations were investigated but no further action was taken on the advice of the Crown Prosecution Service, police said.
Sir Keir Starmer, who was then director of public prosecutions, has declined to comment.
At the time a police spokesman said: "The difficulty is that a large number of the women do not know whether they were raped or not.
"The only person who knows is Worboys himself. We hope he might consider telling us in the future what went on."
Many of Worboys's victims were young women who had been drinking in trendy nightspots in the West End and Chelsea.
The cabbie offered them Champagne spiked with powerful sedatives to celebrate a fictional lottery win, backed up with a carrier bag stuffed full of cash.
The drugs left the women insensible and unable to protect themselves as he pounced on them in the back of the vehicle.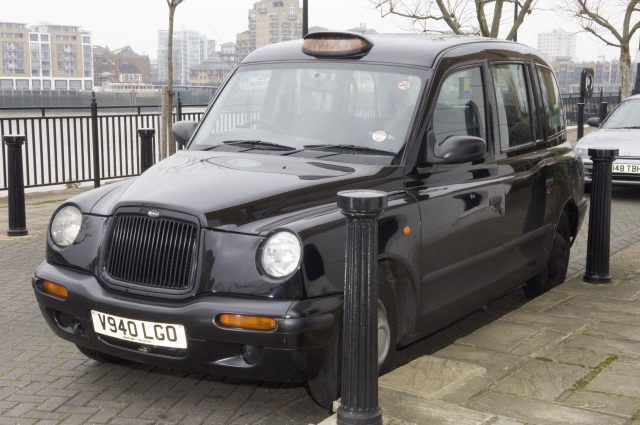 At his sentencing, Worboys was told he would not be released until parole officials were convinced he did not pose a threat to women.
In a statement, the Parole Board said: "We can confirm that a three member panel of the Parole Board has directed the release of Mr John Worboys, following an oral hearing.
"The arrangements for Mr Worboys' release will be managed by the Ministry of Justice."
According to a Government website, an indeterminate sentence has no fixed length and is given if a court thinks an offender is a danger to the public.
As a serious sex offender, Worboys is likely to face strict conditions upon release.
Five officers were disciplined for blunders during an inquiry into Worboys, with the police watchdog finding them responsible for serious errors of judgment and missing crucial opportunities.
A report by the Independent Police Complaints Commission (IPCC) said officers formed a "mindset" that the driver of a black cab was unlikely to be responsible for a sex attack.
As a result they failed to double-check inconsistencies in his story or re-interview him after new evidence was collected.
The IPCC said the case should serve as a "wake-up call" to the Metropolitan Police.
Nine months after Warboys's conviction, Scotland Yard unveiled a new centrally organised team to catch more rapists and other sex offenders.
Yvonne Traynor, chief executive of Rape Crisis South London, said: "It feels far too soon for this dangerous and manipulative perpetrator to be released into the public having served this woefully short time in prison.
"He may be free to live amongst us but the women he raped will never be totally free from his despicable actions."
Fay Maxted, chief executive of The Survivors Trust, called Worboys's crimes "calculated" and "deliberate" and said it will probably take "significant resources" to monitor him as he settles back into society.
She said: "I doubt whether the victims will feel Worboys has served a sentence that reflects the seriousness of his crimes or, at a time when specialist rape and sexual abuse services are struggling with lack of funding and huge waiting lists, that society has supported the victims as much as they needed."
Sophie Walker, leader of the Women's Equality Party, said: "The parole board may have satisfied itself that he can be prevented from ruining even more lives, but that will come as little comfort to the more than 100 women who he is thought to have attacked."
Sarah Green, from the End Violence Against Women Coalition, said: "The decision to release John Worboys beggars belief. It is likely to be the product of a justice system and a society that cannot and perhaps will not deal with rape."
Lawyer Harriet Wistrich said two victims had not been informed of the decision to release Worboys.
She told Channel 4 News the first they learned of the news was while "listening on the radio, cooking tea for the kids".
Ms Wistrich said: "They've both said they're absolutely sick and disgusted and shocked to the core about it."
It is understood all those who were signed up to the victim contact scheme were informed as soon as the Parole Board decision was made.
The Parole Board's reasoning for directing Worboys's release should be published and made available for scrutiny, Labour MP Yvette Cooper said.
She said: "There are many serious questions why this dangerous man has been given parole after serving such a short sentence for his attacks against women.
"Given the seriousness of this case, the Parole Board should publish their reasons immediately so both the decision and the process can be scrutinised before this man is released. We also need to know what information and support was given to all the victims before this decision was taken."