A Sinn Fein MP has been suspended by his party for three months for posting a social media video of himself balancing a loaf of Kingsmill bread on his head on the anniversary of the Kingsmill massacre.
West Tyrone MP Barry McElduff said he accepted the sanction imposed by the Sinn Fein leadership but reiterated his insistence that the contentious post was not meant as a reference to the sectarian murders of 10 Protestant workmen at the village of Kingsmill in 1976.
Announcing the punishment, Sinn Fein's Stormont leader Michelle O'Neill apologised to the Kingsmill families.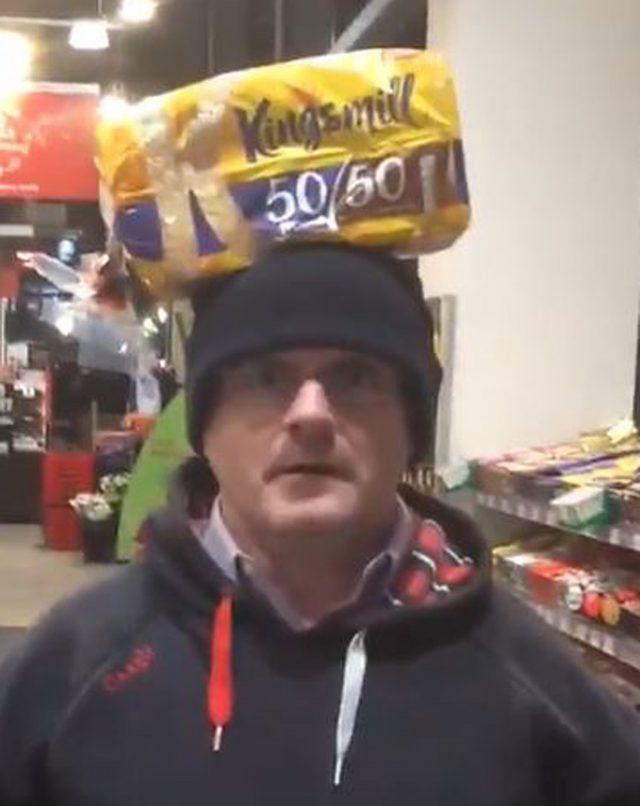 She said the tweet was "ill-judged and indefensible" but said she did not believe it was intentionally malicious.
Mrs O'Neill also confirmed that her party colleague would continue to get paid his Sinn Fein party salary during his suspension.
Unionists have criticised Sinn Fein for not being tougher on Mr McElduff, with some branding a three-month suspension with continued pay as a "cop out".
Mr McElduff was censured by party chiefs after a lengthy meeting at Sinn Fein headquarters in west Belfast on Monday.
Afterwards, the republican MP reiterated what he described as a "deep and sincere" apology to relatives of the Kingsmill victims, insisting he did not mean to cause any hurt.
"Although I genuinely meant no offence, I accept that my actions were ill-judged and, while unintended, caused deep and unnecessary hurt and pain to the Kingsmill families," he said.
The well-known Kingsmill brand of bread shares a name with the south Armagh village that witnessed one of the most notorious incidents of the Troubles in 1976.
Republican paramilitary gunmen stopped a van carrying textile workers on their way home, identified the Protestant occupants, lined them up at the side of the road and shot them.
"In recognising the serious consequences of my actions, I fully accept the party's decision to suspend me from all party activity for a period of three months," said Mr McElduff.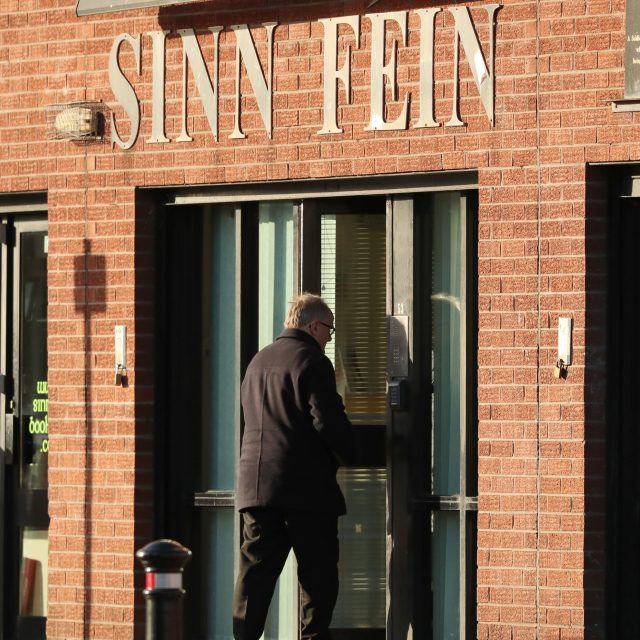 He said he had "no idea" he had posted the video on the anniversary of the massacre.
"I have no doubt that hurt and pain has been caused but it was genuinely unintended on my part," he said.
In the short video, Mr McElduff, who is known for his light-hearted social media contributions, is filmed walking around a shop with a Kingsmill loaf on his head, asking where the store kept the bread.
It was posted around the 42nd anniversary of the Kingsmill outrage on Friday.
He has faced multiple calls to resign in the wake of the controversy.
After the disciplinary meeting, Mrs O'Neill said sorry to the Kingsmill families.
"To the Kingsmill families, I as the Sinn Fein leader in the north want to apologise unreservedly for the hurt and pain that has been caused over the course of the last number of days in regard to Barry's tweet," she said.
Sinn Fein pays its elected representatives an average industrial wage and diverts the rest of their salaries into party coffers.
Mrs O'Neill said Mr McElduff would continue to be paid during his suspension.
"Barry is paid through the party resources and he will continue to be paid through the party resources," she said.
"He has been suspended as a party member for three months but he also has a mandate from the people of West Tyrone and he will continue to represent them in that way."
Mrs O'Neill said she had considered all disciplinary actions, including dismissing Mr McElduff from the party.
"I made very clear to Barry that his tweet was ill-judged and that his tweet was indefensible and that it has caused hurt and pain to the Kingsmill families," she said.
"I don't believe that Barry's actions were malicious or were intended to cause the hurt and pain which they did.
"However, given the seriousness of the issue, I have suspended Barry for a period of three months from the party and Barry accepts that as an appropriate response in relation to the tweet activity."
The storm around the social media post is threatening to further disrupt faltering efforts to re-establish a powersharing executive at Stormont, with the Democratic Unionists characterising it as an affront to victims.
DUP MP Sammy Wilson heavily criticised the length of the suspension.
"This pitiful sanction will only further compound the victims' grief," he said.
"For all their lecturing about respect, Sinn Fein have been exposed for what they are.
"Big implications and serious questions for Sinn Fein leadership."
Alan Black, who survived the Kingsmill attack despite being shot 18 times, said the three-month suspension was not sufficient.
"I watched all my friends being murdered, my 19-year-old apprentice crying for his mother, and then to watch on Friday a man standing and mocking their deaths, if he was a man of principle he would walk," he said.
Mr Black accused Sinn Fein of "circling the wagons" around Mr McElduff.
"If he didn't know the fifth of January was the Kingsmill massacre, it's beyond me," he told UTV.
Bea Worton, whose son Kenneth was murdered, told the broadcaster Mr McElduff should have been "put out" of Sinn Fein.
"Mrs O'Neill wants equality, and that's the equality we get?" she said. "We get no equality."