Michael Gove appears to be walking the walk on reducing waste, as he was spotted strolling into Downing Street with a reusable coffee cup.
The Environment Secretary has previously been photographed clutching a disposable coffee cup, but now appears to have made the switch to a more sustainable alternative for his takeaway brew.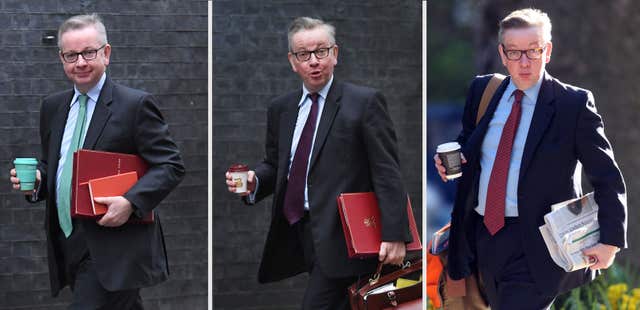 MPs on the Environmental Audit Committee have called for a 25p "latte levy" on the disposable cups, on top of the price of a hot drink, with the revenue used to pay for improved recycling facilities.
The Environment Secretary may also have been encouraged to make the switch by voluntary efforts by some coffee shop chains to give customers money off for using reusable cups, with Pret A Manger recently doubling its discount to 50p.
A UK-wide ban on adding tiny pieces of plastic known as microbeads into rinse-off cosmetics and personal care products such as face scrubs, toothpastes and shower gels has come into force, to reduce plastic pollution entering the world's oceans.
Mr Gove has also pledged more action to reduce plastic and other waste, including plastic bottles, while the Treasury has announced plans to look at taxes or charges on single-use plastics such as packaging and polystyrene takeaway boxes.
But a recent Freedom of Information request by the Liberal Democrats revealed that more than 2.5 million disposable cups have been bought for use in the Environment Department in the past five years, equivalent to almost 1,400 a day.
Catering contractors started trialling the use of plastic "keep cups", which can be purchased by staff and then reused, at the end of October, after the FoI request was received, and have bought 200 such cups for the scheme, the information showed.
The department has said a working group will be looking at tackling common litter such as takeaway packaging, which could include coffee cups.