The husband and five-year-old daughter of a shop worker who was murdered in a supermarket four days before Christmas have led hundreds of mourners at her funeral.
Jodie Willsher, 30, died after she was stabbed in the Aldi store where she worked in Skipton, North Yorkshire, on December 21.
On Wednesday, her husband Malcolm was one of the pallbearers who escorted her coffin into Christ Church, in the town where they married seven years before.
Around 250 people – all wearing something pink – packed into the church and more than 150 listened to the service in freezing conditions outside.
Megan wore a pink and grey scarf as well as large pink fabric flower.
Christ Church vicar the Rev Ruth Harris told the congregation: "Jodie was a woman full of fun, life and vitality who was a great colleague, a friend, an adoring mother, a caring daughter, a devoted wife.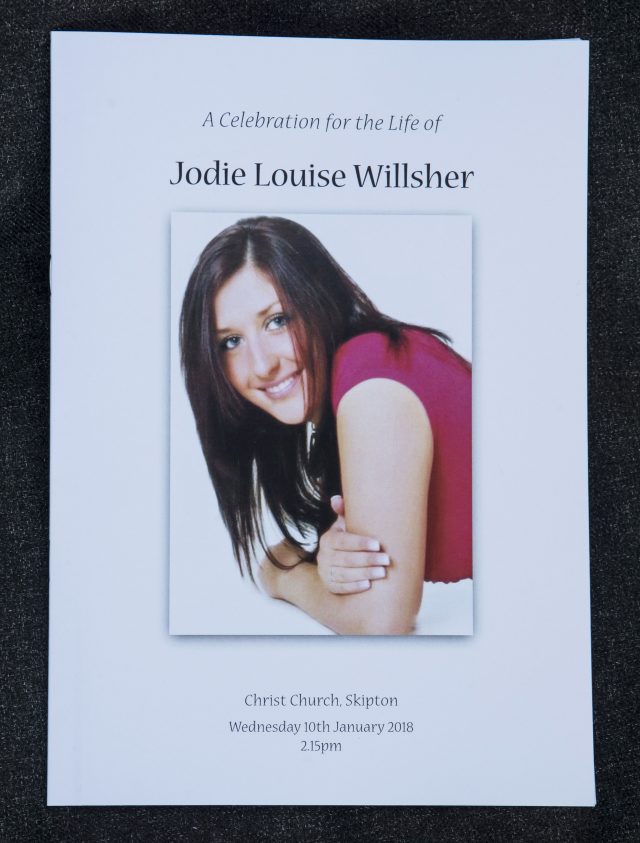 "Jodie was preparing for Christmas and, through the nature of her work, she was helping others in their Christmas preparations.
"And it was about this work that her life was ended so abruptly, shockingly and with devastating consequences.
"What none could have anticipated was that this Christmas Jodie would be spending it with the angels and Jesus himself."
Speaking before the service, the vicar said: "Jodie was full of life, full of joy, loved her family – Megan and Malcolm – and spent her time with them and with their friends and just enjoyed life to the full.
"Which is why it is such a tragedy that we're here for her funeral today and why the family are saying 'we want to celebrate her life'."
She explained that Mrs Willsher was "mad about pink".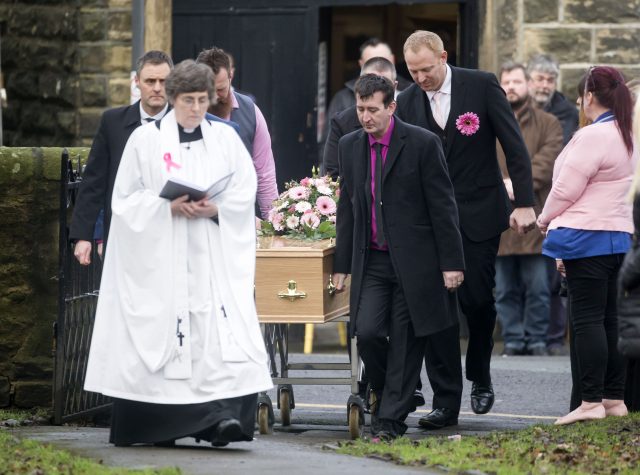 "That sums up Jodie, really," she said. "Just the joy of life and pink is such a vibrant colour – a life-giving colour."
The vicar said the town was "in shock and stunned" after what happened to Mrs Willsher.
The Aldi store was closed for the funeral as a mark of respect and to allow colleagues to attend.
In a eulogy read to the congregation, Mr Willsher said his wife and daughter were "more than mother and daughter, they were best friends".
He said: "And the bond was beautiful to see."
Mr Willsher said Megan was "Jodie's greatest achievement".
He said the death of his wife had left a "great hole in our lives" and he said he was lucky to have married her.
:: Neville Hord, 44, has appeared in court accused of Mrs Willsher's murder. He is due to appear again at Bradford Crown Court on January 26.