Tributes have been paid following the "tragic loss" of an 18-year-old who died of pneumonia after suffering from flu.
Bethany Walker, from Applecross in the Scottish Highlands, died on Friday as three strains of flu put pressure on health services across the UK.
Staff have faced rising numbers of flu cases and respiratory illness, with 48 flu-related deaths in England so far this winter.
The main strains circulating continue to be flu A(H3N2), known as Aussie flu, A(H1N1), known as swine flu, and Flu B.
Ms Walker left Plockton High School in the summer of 2017 to take a gap year before studying midwifery in Aberdeen, and is understood to have been taken to Raigmore Hospital in Inverness after becoming ill.
The nearby Applecross Inn paid its own tribute to her on its Facebook page.
It said: "Farewell to dear Bethany another fantastic member of our team who we sadly lost last Friday after a short illness, you were the 'belle of the ball' at Hogmanay … and indeed everywhere.
"Such a tragic loss of someone so perfect in every way, so polite, such beauty, humour, fun, music and studies.
"You were pure pleasure as an employee … loved by every member of our team, so much devotion and dedication to all you did."
Meanwhile, her school said on Facebook: "It was a privilege for all of us to have taught Bethany, to have known her in her years in the school and to have maintained contact with her after she left.
"It is tragic to lose someone so young and the thoughts of the whole school and the hostel are with Bethany's family at this sad time."
It comes as waiting time performances in accident and emergency departments reached their lowest level in 14 years, with staff describing patients "dying prematurely" in their corridors before they are seen.
A letter from the heads of more than 60 A&E departments in England and Wales to Theresa May warned that the "current level of safety compromise is at times intolerable", as the winter months put the NHS under further strain.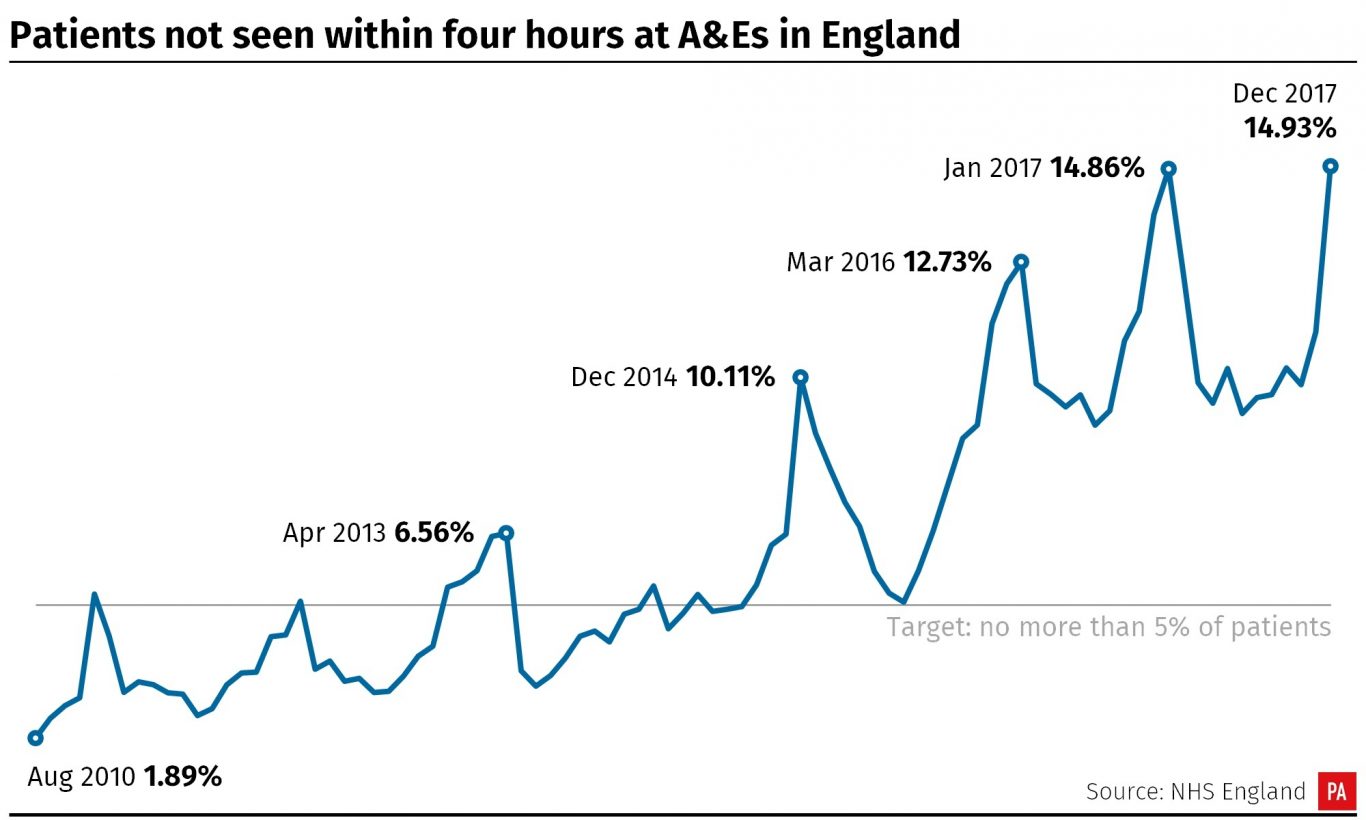 The number of people admitted to intensive care with flu rose by 65% in the first week of the year, while Public Health England (PHE) said there was also a 78% increase in the GP consultation rate with flu-like illness and a 50% increase in the rate of hospital admissions.
In Scotland, the flu rate for the first week of 2018 was four times higher than the same week last year.
Statistics from Health Protection Scotland showed 107 Scots in every 100,000 of the population were diagnosed with the virus in the week ending January 7.
Health Secretary Shona Robison said the NHS was coming under "significant pressure" as a result of higher flu levels and thanked staff for doing "a remarkable job".