Construction giant Carillion has said it has "no choice but to take steps to enter into compulsory liquidation with immediate effect" after talks failed to find another way to deal with the company's debts.
The stricken firm, which employs 20,000 workers across Britain, said crunch talks over the weekend aimed at driving down debt and shoring up its balance sheet had failed to result in the "short-term financial support" it needed to continue trading while a deal was reached.
Its collapse poses questions as to why the group continued to receive Government contracts despite issuing a number of profit warnings.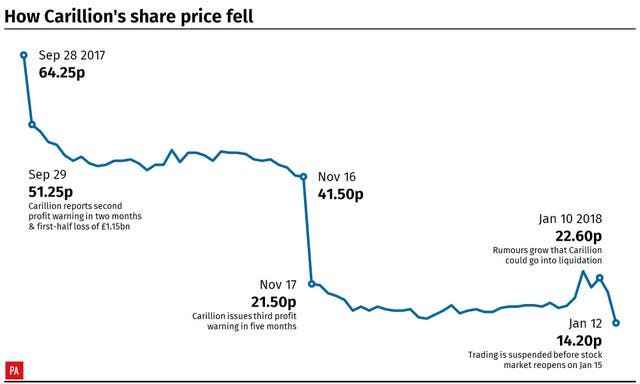 Britain's second biggest construction firm is understood to have public sector or public/private partnership contracts worth £1.7 billion, including providing school dinners, cleaning and catering at NHS hospitals, construction work on rail projects such as HS2 and maintaining 50,000 Army base homes for the Ministry of Defence.
Carillion chairman Philip Green said: "This is a very sad day for Carillion, for our colleagues, suppliers and customers that we have been proud to serve over many years.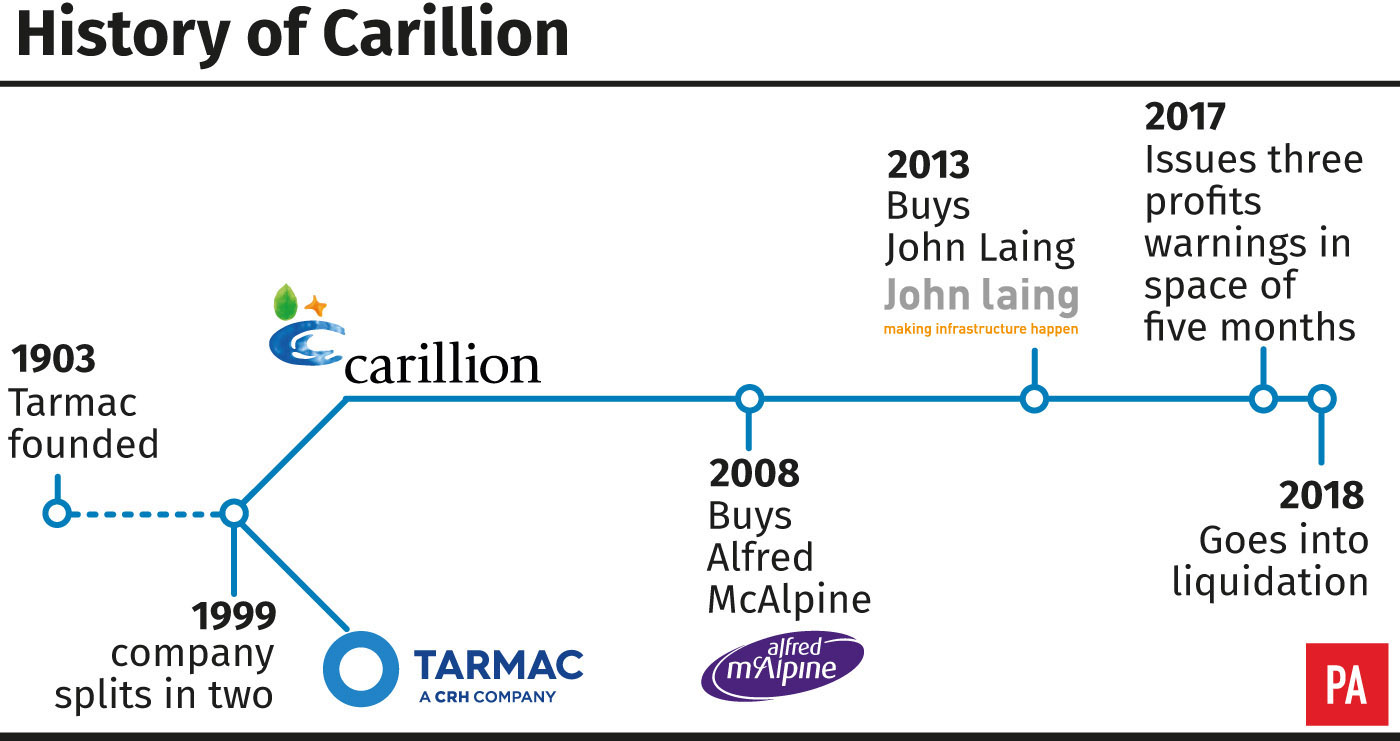 "In recent days, however, we have been unable to secure the funding to support our business plan and it is therefore with the deepest regret that we have arrived at this decision.
"We understand that HM Government will be providing the necessary funding required by the Official Receiver to maintain the public services carried on by Carillion staff, subcontractors and suppliers."
Sources had told the Press Association that a business plan tabled by the group during the meeting was knocked back because it failed to present a solid proposition for restructuring the business.
However, the company denied the plan had been rejected, adding that any restructuring of the business could result in a debt-for-equity swap.
The Government, pension authorities and stakeholders also met on Friday in an attempt to thrash out a rescue package, with talks spilling over into the weekend.
The Official Receiver has now been appointed alongside partners at accountancy giant PwC to oversee the liquidation of the company
Cabinet Office Minister David Lidington said: "It is regrettable that Carillion has not been able to find suitable financing options with its lenders but taxpayers cannot be expected to bail out a private sector company.
"Since profit warnings were first issued in July, the Government has been closely monitoring the situation and has been in constructive discussion with Carillion while it sought to refinance its business.
"We remained hopeful that a solution could be found while putting robust contingency plans in place to prepare for every eventuality.
"It is of course disappointing that Carillion has become insolvent, but our primary responsibility has always been keep our essential public services running safely.
"We understand that some members of the public will be concerned by recent news reports. For clarity – all employees should keep coming to work, you will continue to get paid. Staff that are engaged on public sector contracts still have important work to do."
Unions have called for urgent reassurances over the jobs, pay and pensions of thousands of workers following the "disastrous" news.
Officials from several unions representing workers on the railways, construction sites, prisons, hospitals and schools are seeking information from the company and ministers.
Rail, Maritime and Transport union general secretary Mick Cash said: "This is disastrous news for the workforce and disastrous news for transport and public services in Britain.
"We have been warning since Thursday night that we thought the collapse of the company was imminent.
"The blame for this lies squarely with the Government who are obsessed with outsourcing key works to these high-risk private enterprises."
Jim Kennedy, the Unite union's national officer for local government, said a public inquiry was needed to answer questions about Carillion's conduct and the Government's decision to award it contracts.
Nicola Parish, executive director at The Pensions Regulator, said: "It is too early to comment on possible outcomes for the various pension schemes connected to Carillion.
"In the meantime, I would like to assure scheme members that the government set up the Pension Protection Fund (PPF) to support members of workplace pensions in precisely these circumstances."
Shares in Carillion have been suspended on the London market following the liquidation announcement.