Snow, sleet and hail are set to hit Scotland and Northern Ireland, with other parts of the UK bracing themselves for ice and high winds as the week progresses.
A yellow weather warning for snow and ice is in place for Monday afternoon to Wednesday evening, covering Northern Ireland, most of Scotland and the far north of England.
A similar warning covering parts of Wales and northern England will then kick in from the early hours of Tuesday until 11am on Wednesday.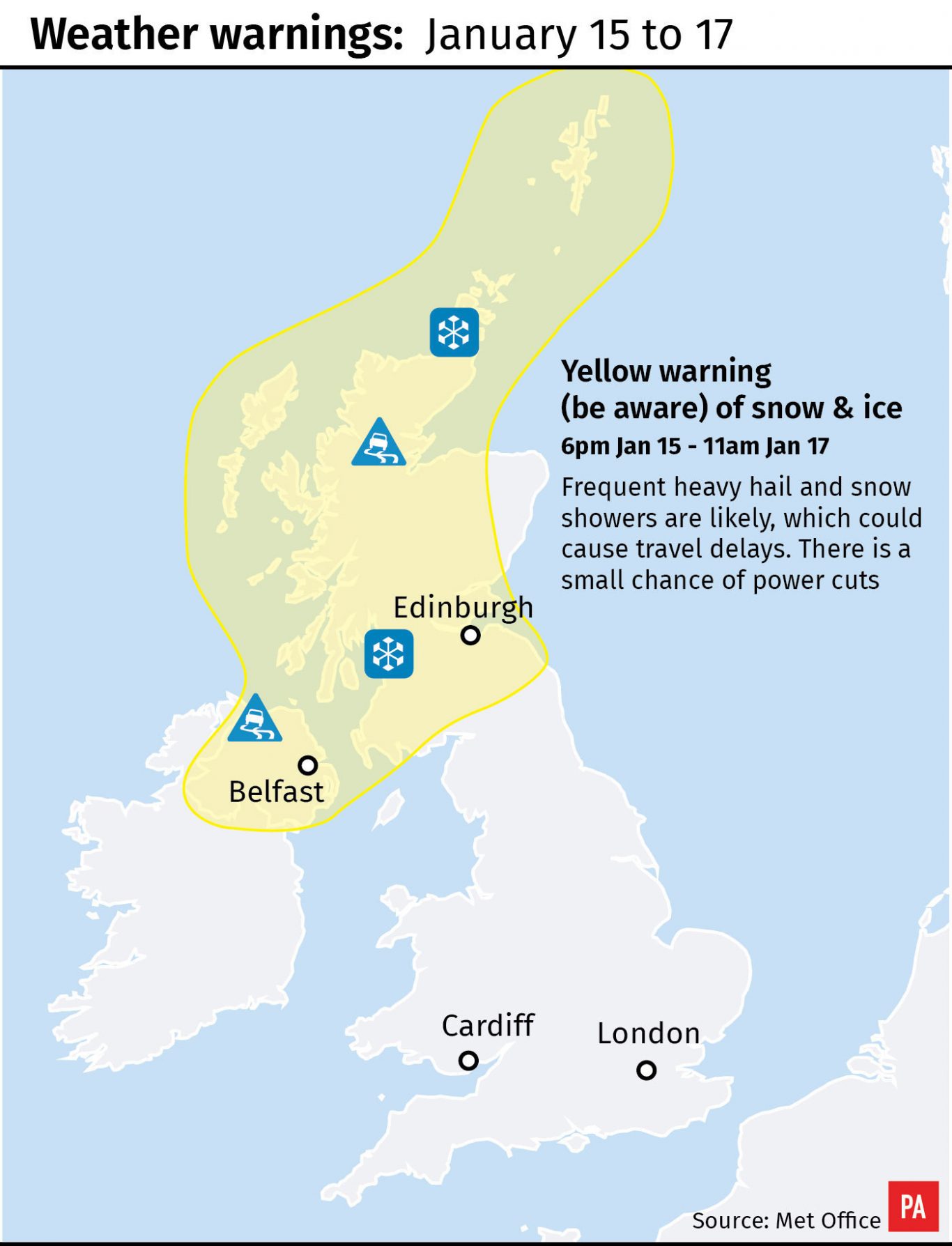 Snowfalls of up to 20cms can be expected on higher ground, with deposits of up to 8cms likely in more populated areas.
Hail, lightning and blizzard conditions are also possible in certain areas, forecasters warn.
Travel delays are possible and there is a chance of power cuts throughout the duration of the weather warning.
Met Office spokeswoman Nicola Maxey told the Press Association it was a "showery" outlook.
On the first snow warning covering Scotland and Northern Ireland, she said: "We're looking at 10-20cms above 200-300 metres.
"We may see as much as 15cms of snow over hills in Northern Ireland, especially in the north of Northern Ireland.
"At lower levels we're looking at two to eight cms more typically below that 200-metre height.
"Some places within the warning area might not see any, it's a showery set-up.
"There could well be some hail and lightning around as well, particularly over western Scotland. Obviously, lightning has the potential to disrupt power supplies.
"There are strong winds as well throughout that period, so you could see some blizzard conditions if you've got the strong winds and the falling snow, again mainly over higher ground."
Further south, showers will turn to sleet, snow and hail late on Monday night across northern England and then affect parts of Wales and the Midlands on Tuesday evening and overnight into Wednesday.
There will be little let-up from the bad weather, with gusts of 80mph expected to batter parts of the UK later in the week.
A yellow warning for wind covering England, Wales, Northern Ireland and the southern half of Scotland has been issued for 9pm on Wednesday to 1pm on Thursday.
Ms Maxey said: "It's a low pressure system that's crossing the country overnight on Wednesday night and that's bringing those stronger winds. The warning is talking about isolated, more exposed areas seeing 80mph, but more widely 60-70mph."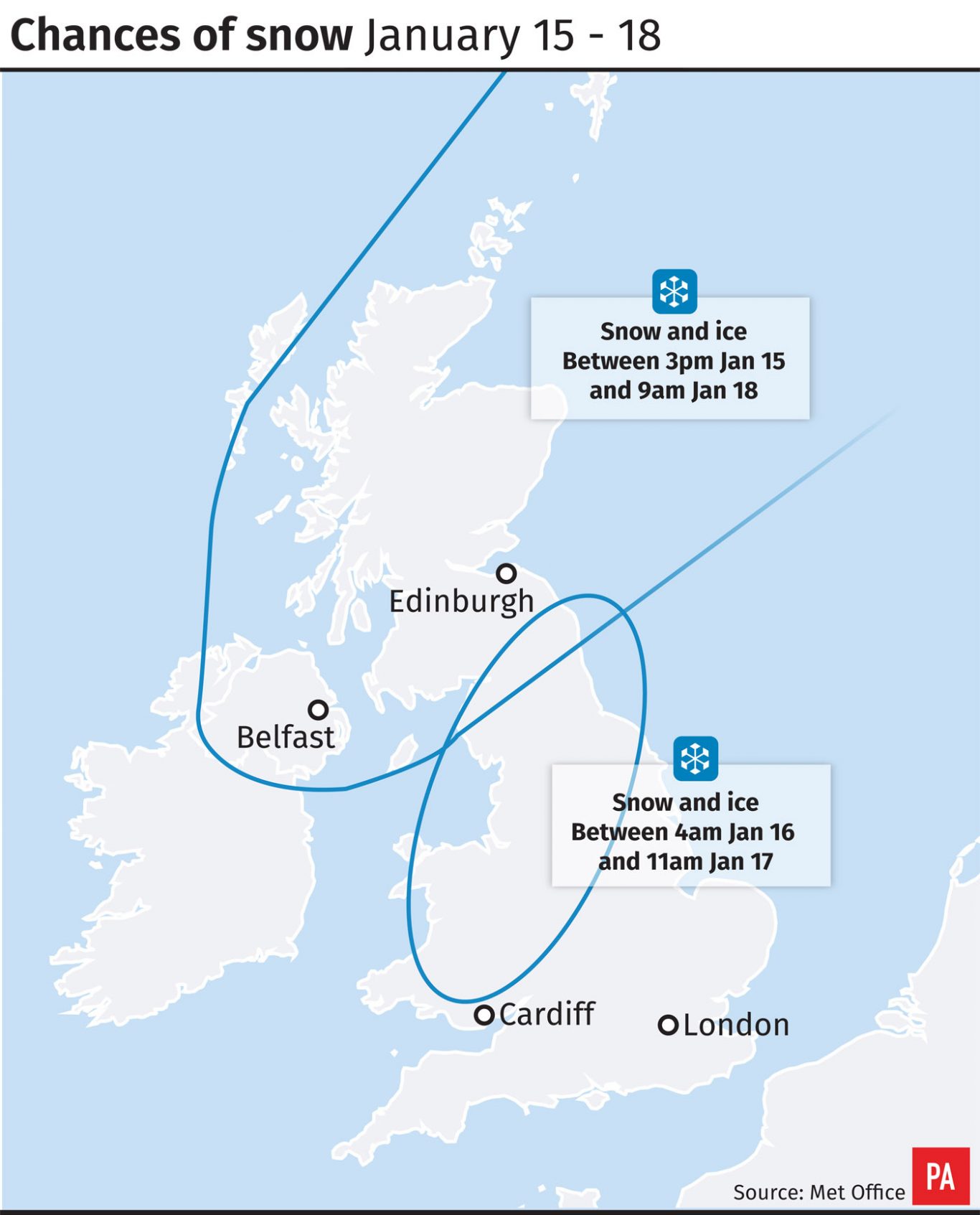 The weather system will bring in colder conditions, particularly in Scotland, as the week goes on.
Ms Maxey said snow showers on Wednesday into Thursday could be heavy and persistent.
"It's the northern edge (of the weather front) that's bringing that colder weather. We're looking at three to eight cms accumulating in places with potential for 20cms over higher ground. Central and northern Scotland are the places most at risk which are covered by this warning."
She went on: "It's a very showery set-up over the next few days. In between those showers, there is the potential for some sunny spells as well, so people will see some sun, some bright cold sunny days."
The various weather warnings have cautioned about the possibility of travel delays on roads, public transport cancellations and power cuts.
People are also urged to be wary of icy roads and pavements, increasing the chances of accidents or injuries.