A High Court case over alleged phone-hacking at both The Sun and the defunct News of the World has settled.
Comedian Vic Reeves, who brought the action in his real name of Jim Moir, was one of four individuals whose claims against News Group Newspapers (NGN) were due to be heard in London over four weeks.
The others are Coronation Street actor Rajan Harkishindas, who uses the name Jimmi Harkishin, journalist and TV presenter Kate Thornton and talent manager Chris Herbert.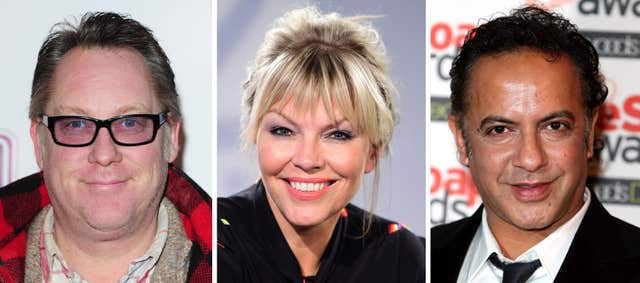 No details of any damages were given in court.
The four alleged they were the victims of unlawful information gathering by NGN, resulting in 79 disputed articles.
Their lawyers also asserted the practice was "widespread" in both newspapers.
NGN, which has settled a large number of cases brought against the News of the World, has always denied hacking activity at its sister tabloid.
If the trial had not been aborted, allegations were to be made in respect of a very wide range of activities, journalists, executives and third parties over a period of about 14 years at the two newspapers and NGN as a whole.
Mr Sherborne said that two other claims – from the 10 out of which the four were selected as "test" cases – had also settled, while there were up to 48 other cases progressing to trial.
The judge expressed concern that it was the fourth trial in the long-running litigation that had been aborted, and that court time and resources had been taken up.
He said that the latest settlement meant that the opportunity for exploring the allegations of wider unlawful activity – which would have provided a framework for future cases – had gone.
The development had enhanced the impression that he was not so much managing the cases to trial "as managing them to settlement".
The judge said: "The future conduct of this litigation will have to be on a different basis.
"It cannot be allowed to persist."
He directed another hearing in about two weeks to review the remaining cases – to prevent unnecessary court time being devoted to exercises which might turn out to be futile.
Law firm Collyer Bristow said later that nine of their clients had settled their claims against NGN – including actor David Tennant and Olympic medallist Colin Jackson.
It said that NGN would pay damages and costs to the nine and, in some of the cases, apologies would be read in open court.
Steven Heffer, Partner and Head of Media and Privacy, said: "We are glad to have successfully settled these claims, which allows these nine individuals to finally move on from a very distressing issue."