The first solicitor to be appointed Lord Chancellor has been welcomed to the role by the finest minds in the legal profession.
Oxford graduate and MP David Gauke, who was previously Work and Pensions Secretary, was sworn into the ancient office on Thursday.
The colourful ceremony, attended by leading members of the judiciary, including Supreme Court president Lady Hale and the Lord Chief Justice of England and Wales Lord Burnett, took place at the Royal Courts of Justice in London.
Lord Burnett said: "We look forward, in the years ahead, to developing a strong, productive and harmonious working relationship with you.
"My Lord Chancellor, on behalf of the judiciary, I congratulate you and welcome you to your office."
Mr Gauke, 46, who was elected in 2005 as Conservative MP for South West Hertfordshire, ends a recent run of four non-lawyers in the post, as he previously worked as a solicitor for eight years.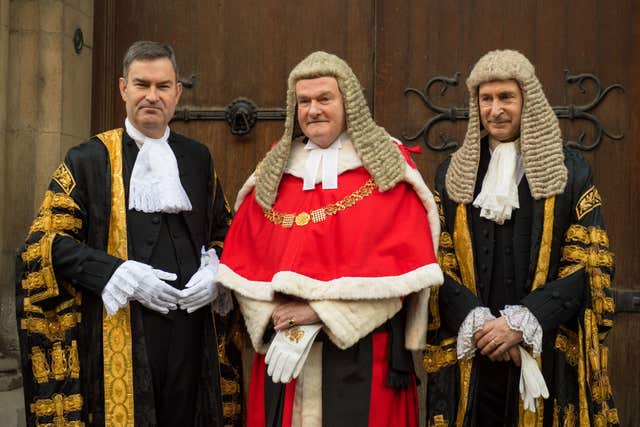 Mr Lidington took over the office, which can be traced back to Anglo-Saxon times, from Liz Truss – who was the first woman to hold the post since the 12th century.
In an oak-panelled courtroom, Mr Gauke, dressed in traditional gold and black robes, took his oath and pledged to respect the rule of law, defend judicial independence and ensure effective support for the courts.
He said: "As Lord Chancellor, I look forward to working with you, Lord Chief Justice, and other senior members of the judiciary, to ensure we continue to attract exceptional and talented people in order for it (the judiciary) to remain strong, free from improper influence and truly independent – indeed, to remain the envy of the world.
"During my time as Lord Chancellor, I will be ambitious for our country's legal services, I will be steadfast in my commitment to defend the independence of the judiciary and to respect the rule of law, and I will be determined in our work to create a justice system that is open to all, a justice system that everyone in the country can have confidence in and one that lives up to the deep-rooted sense of justice and fairness the UK is known for around the world."
The ceremony was attended by his wife Rachel, their three sons, and his mother Susan.