Prince Harry and Meghan Markle drove Cardiff wild when they finally made an appearance in the city after a train delay kept royal fans waiting.
As they shook outstretched hands, the prince said "sorry we're late" while the US actress echoed his words, saying: "I'm so sorry."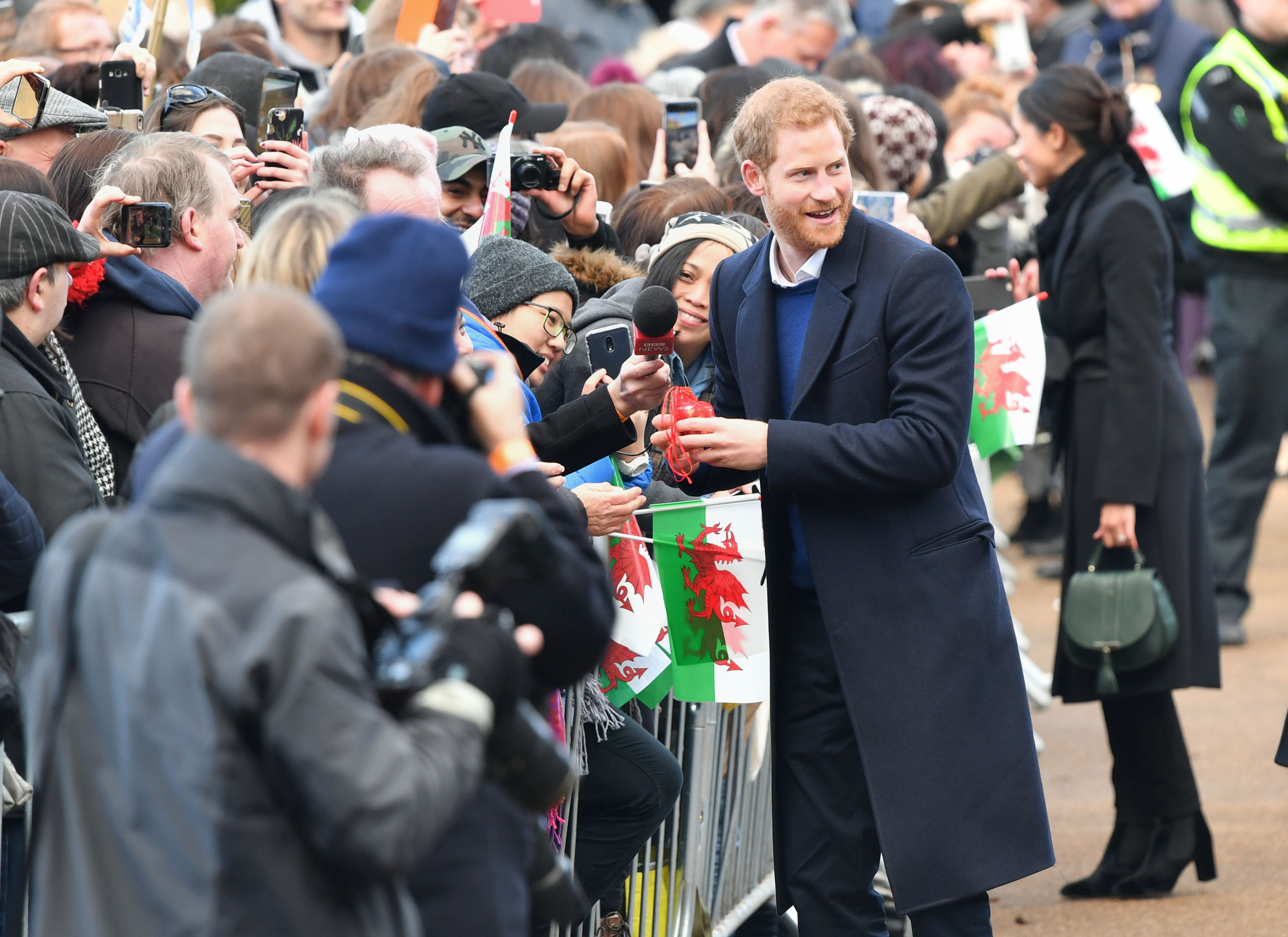 Meghan even received an invitation from royal superfans Anne and Judy Daley, who were holding a balloon printed with the words Happy Engagement, to stage her hen do in the nightclubs of Cardiff
– and she accepted.
The couple also came across their namesakes, Megan Taylor, nine, and six-year-old Harry Smith, who presented them with a Welsh love spoon, an early wedding present from the people of Wales.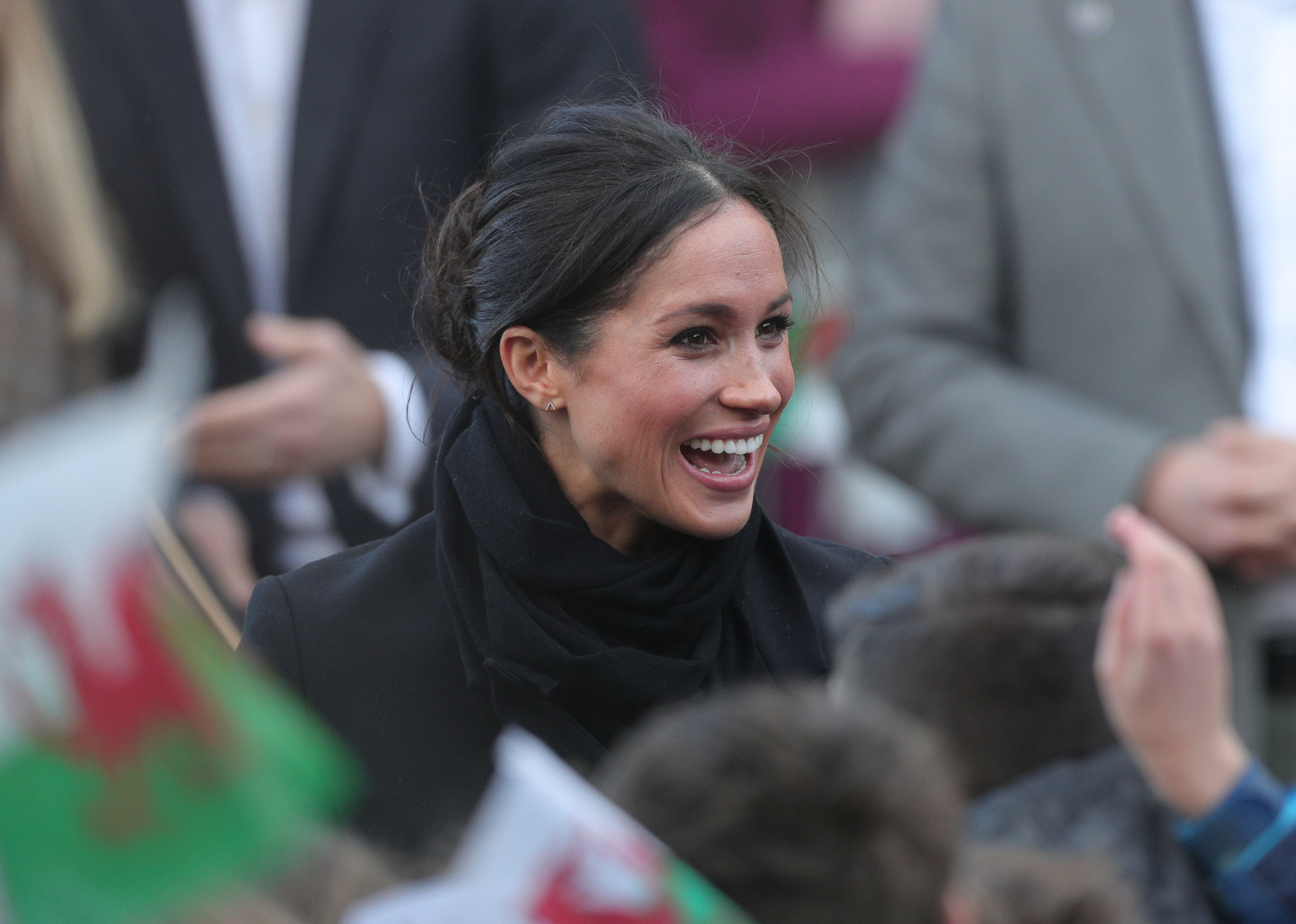 Anne Daley, who had brought her Cavalier King Charles Spaniel – named Camilla – to meet the couple, said: "I asked her if she would like to come on a hen night around the nightspots of Cardiff, and she said she'd love to.
"It was overwhelming, she was so beautiful and kind and she loved Camilla, she gave her a little squeeze."
Harry and his fiancee travelled to Cardiff by train from London but were delayed because of a track fault between the west London suburb of Southall and Slough, Network Rail said.
When Harry first arrived at the castle he clasped his hands together in front of him as if praying, in a sign of forgiveness, as he was greeted by Morfudd Meredith, the Lord-Lieutenant of South Glamorgan, and said "sorry" for being late.
The couple were making their first official visit to Wales and many of the hundreds waiting to greet the royals had been waiting four hours to catch a glimpse of the prince and his fiancee.
Linda Thompson, 66, from the town of Dinas Powys, just outside Cardiff said after chatting to the prince: "I said to Harry good choice of bride and he said 'would you prefer a Welsh lady?" and I said 'no she's beautiful'.
"I told Meghan what I said and she said 'thanks very much'. She said sorry for us waiting so long but it was worth it."
Self-confessed royal fanatic Cynthia Osborne, from Bridgend, presented Kate with a posy of daffodils, the national flower of Wales.
The retired nurse, aged in her 60s, said: "Meghan said 'it's lovely to be in Wales' I asked to see her engagement ring and she held it out and said 'I'm such a lucky lady'. I told her to come back to Wales."
Meghan was given the first of a number of Welsh love spoons by June Haws, from Llanduff, while 11-year-old school girl Polina Patsiakina, from Cardiff, presented the US actress with a drawing of the prince she had completed yesterday.
The US actress was kissed on the hand at one point by a male admirer and she also broke the normal rules of royal behaviour when she wrote in a schoolgirl's notebook.
When Caitlin Clark, 10, asked "Can you sign my book?" Ms Markle agreed writing "Hi Kaitlin" – albeit with a K – and adding a heart and a smiley face.
Linda Nubert, 67, a retired civil servant, said: "I said, 'Hello Meghan, welcome to Cardiff, Wales.'
She said, "It's my first time in Wales.' She said she thought it was amazing, and was really excited to be here."
Later, hundreds of well-wishers lined the street outside the Star Hub, in the Tremorfa area of Cardiff, and cheered and screamed as they welcomed Harry and his fiancee to the community and leisure centre.
The couple arrived 30 minutes behind their original schedule having been delayed by an hour arriving in the Welsh capital.
The Prince and Ms Markle were visiting the Star Hub to see how sport is being used to engage young people and aid social development.