Royal well-wishers are waiting in Cardiff to greet Prince Harry and his fiancee, Meghan Markle.
Fans began arriving at Cardiff Castle as early as 7am, although the US actress and Harry were delayed as they set out on their Welsh awayday.
Their train had set out on time, but a Kensington Palace spokesman said it would be arriving about 30 minutes late.
The prince is introducing his bride-to-be to the residents of another area of the country, following successful visits to Nottingham and Brixton in south London.
Inside the castle, Cardiff's landmark building with a history dating back more than 1,000 years, the couple will tour a Welsh culture festival.
They will hear performances from musicians and poets, meet leading sportsmen and women, and see how organisations are working to promote the Welsh language and cultural identity.
June Haws, from Llandaff, Cardiff, took Harry and Ms Markle a Welsh Love Spoon made from pewter to celebrate their forthcoming wedding.
The custom of carving Love Spoons dates back centuries in Wales, with young men giving them as a token of their affection.
"It is engraved with a Welsh dragon, daffodils and wedding bells," Mrs Haws said.
"Prince Harry has always been special to the people who have lived through the Diana years, as I have. I just want to see him happy, and to see her. It is a great atmosphere here."
Eleanor Davies, 63, from Haverfordwest, Pembrokeshire, said: "I've seen other members of the royal family before but not Harry. It is so exciting to have them in Wales."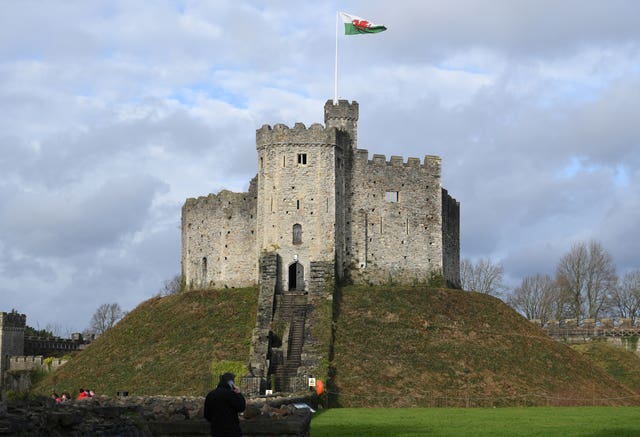 "I think it is lovely that they thought to come here before their marriage," Mrs Bishop said.
"It is an early gift for us. We are big royal fans."
A 10-year-old Cavalier King Charles spaniel called Camilla wore a headband with American flags on, as well as a veil, to meet Harry and his future wife.
"It is wonderfully exciting," said owner Anne Dale, 60.
"I just can't wait to meet them, and Camilla will see them too. They just look lovely together."
Julie Feehan, 50, is throwing her son Gregory a royal wedding-themed 18th birthday party – as his birthday falls on May 19.
"We're having a big celebration and dressing up for the occasion," Mrs Feehan said.
"Gregory wants to go out with the boys but has to do this first. It's so exciting that it falls on the same day."
Later they will see how StreetGames, a delivery partner of Sport Wales and the Welsh Government and an organisation with which Harry has worked, is helping to make sport accessible to all young people, regardless of their social circumstances.
It does this by supporting and establishing more than 1,000 local organisations around the UK to deliver doorstep sport in disadvantaged communities.
The couple will meet young people taking part in doorstep sessions including street dance and table tennis.
They will also meet young women involved with the UsGirls project, set up with the aim of encouraging female participation in sports across the UK and tackling the barriers that prevent many girls and young women from taking part.