A mother and father who lost their day-old son after complications during labour have said safety reassurances from medical experts were false.
Jo Meeke and Matt Gurney's son Puck Meeke-Gurney died in their arms on March 16 2017 at Princess Anne Hospital in Southampton, an inquest at West Sussex Coroner's Court heard.
The couple, from Bosham in West Sussex, were taken to St Richard's Hospital in Chichester the day before.
They had planned a home birth but were advised to go to hospital over concerns of an abruption, where the placenta partially or completely separates from the uterus, which could deprive the baby of oxygen and cause severe bleeding.
The inquest found that the couple were not kept fully informed by hospital staff of the risks encountered during Ms Meeke's labour, preventing the couple from making a potentially life-saving choice.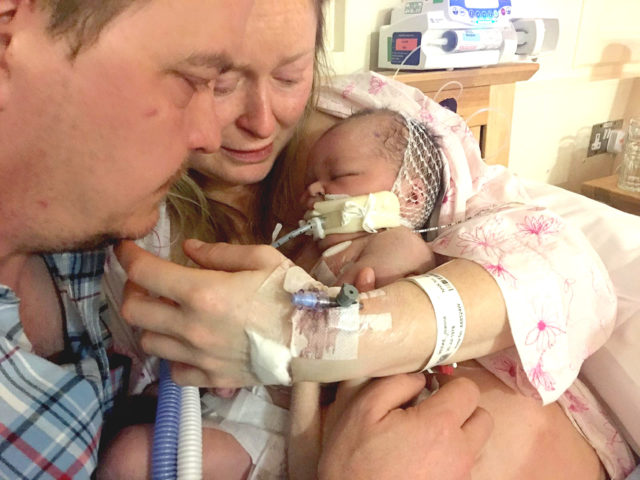 "Reassurances from the medical experts were false and had we been advised fully about the seriousness and potentially catastrophic risks of the situation and been offered the choice of an immediate C-section, we would have taken that option with open arms.
"If that had happened, the coroner has found that Puck's life would not have been lost. Instead, Puck's life was over before it had really begun.
She added: "We remain devastated at the events in St Richard's Hospital and cannot begin to describe the pain of leaving hospital empty-armed after carrying a perfectly healthy baby full-term."
The inquest previously heard how Mr Gurney had expressed a particular interest in the safety of his partner while in hospital, and he was told of a small abruption.
Ms Meeke, 39, was monitored to see if labour could progress naturally or with a Caesarean section through a cardiotocography (CTG) – a test used to check foetal heartbeat – but was not directly told of the findings.
Dr Matthew Jolly, the obstetrician on duty at the time, did not tell the couple that there was a 6% chance the foetus could die if the abruption worsened, as he thought chances were small.
The coroner concluded at the end of the three-day inquest that Puck died of natural causes. A post-mortem examination found he died of hypoxia – a lack of oxygen to the brain – brought on by an abruption.
"The trust fully recognises that all patients need to have enough information to be able to make an informed decision about their treatment and we are committed to continuing to improve the way in which we do that."
The coroner, who welled up as she thanked the couple for their cooperation, expressed her sympathies and said the evidence had "not been easy to listen to".
The couple thanked her for a thorough investigation.
They are aiming to raise £65,000 to buy part of a woodland to provide a place for grieving families and the "amazing" nurses at Southampton neo-natal unit to find solace.
They have so far raised more than £20,000. Donations can be made at www.puckspromise.com.