Anti-Trump protesters descended on the new site of the United States embassy on Saturday afternoon, declaring the US president a "racist bigot" and calling for Theresa May to cancel her meeting with him at the World Economic Forum in Davos next week.
In a demonstration held to mark the first anniversary of Mr Trump's inauguration as US president, around 20 activists from the campaign group Stand up to Racism pushed over a mock wall they had built in front of the embassy's recently opened site in Vauxhall, south London.
It came a week after Mr Trump publicly cancelled a visit to Britain to open the new site because, he said, it had been sold for "peanuts" and was built in an "off location" of London.
Battling heavy rain, protesters chanted "Donald Trump go away, racist, sexist, anti-gay", and "from Calais to Mexico, all the walls have got to go".
Many activists discussed Mr Trump's recent controversial remarks on immigration, when he was reported to have branded Haiti and some African states "shithole" countries in a White House meeting.
Lewis Nielsen, an activist for Stand up to Racism, led much of the crowd's chanting, and later said that Mr Trump will be "met by the biggest demonstration in British history" if he comes to the UK.
"Today marks a year since Trump came to office," said Mr Nielsen, 24. "In that year, he's proved himself to be a racist, sexist bigot. He's tried to bring in a Muslim ban, he's called the whole of Africa a shithole, he wants to build a wall in Mexico. It's incredibly important we oppose his racism.
"If a state visit is arranged it will be a huge mistake for the Government, because the city and the country would be shut down by some of the biggest protests."
Michael Bradley, 50, who works for Stand up to Racism, said: "The man's completely unacceptable and it's pushing politics beyond what is acceptable. We think he's a racist and we think the reason he didn't come to Britain is he knows there would have been millions of people out on the streets.
"If he came to Britain, it would be absolutely unimaginable, the level of protest at every level of British society."
The demonstration came on the same day that the US federal government plunged into a "shutdown" after the Senate could not agree on a new budget.
Affecting hundreds of thousands of federal workers, the shutdown is the first in US history to occur while the same party – the Republicans – controls both Congress and the White House.
Activist Ben Studd, 37, added that a Trump visit to London would whip up anti-Muslim prejudice and endanger British Muslims.
"Every time somebody in the media makes Islamophobic comments, every time there's a terrorist attack, people are attacked in the streets," he said.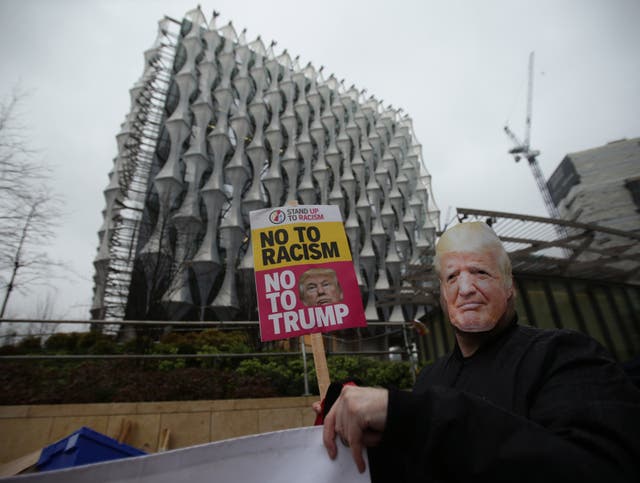 In January 2017 thousands took to the streets of London and other British cities to take part in the Women's March.
Later that month, thousands of protesters in London, Glasgow, Newcastle, Birmingham, and other cities marched on the streets to protest against Mr Trump's controversial executive order that imposed a 90-day ban on residents from seven Muslim-majority nations.