Snow, rain and freezing conditions continued to sweep across the UK after the coldest night in nearly two years.
Temperatures plummeted overnight, with a low of -13.5C (7.7F) recorded in the Highland village of Dalwhinnie, while freezing temperatures were recorded as far south as London Luton Airport.
The weather has also prompted a series of flood warnings to be issued across the UK.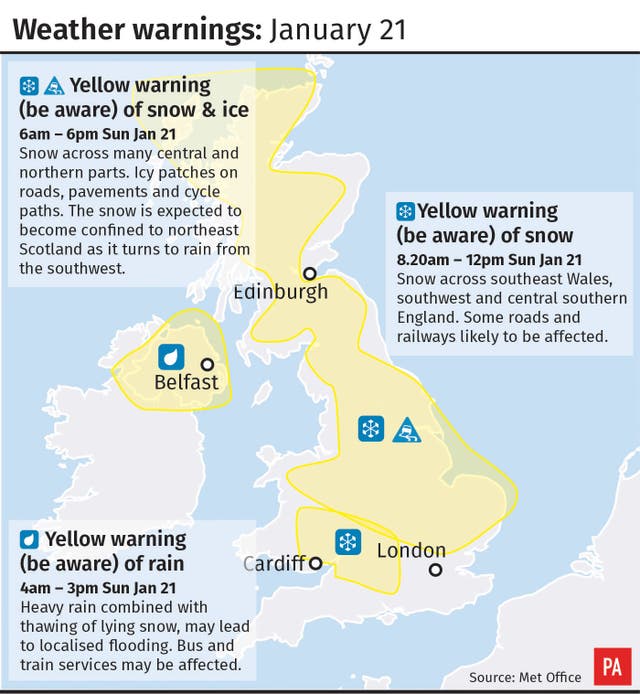 Devon and Cornwall Police said heavy rainfall caused localised flooding and landslides, while properties in Kentisbury, Swimbridge and Landkey in Barnstaple were evacuated.
The Met Office has issued a yellow "be aware" warning of snow and ice to cover much of Scotland, north Wales and England down to southern parts.
The warning, valid from 6am until 6pm, predicts snow on higher routes and says that rain may fall on to frozen surfaces for a time, particularly across Scotland, following a very cold night.
Icy patches are likely on some untreated roads, pavements and cycle paths, while some disruption could be seen to journeys by road, bus and train on affected routes.
Traffic Scotland urged drivers to check their routes before setting off and to ensure they were carrying emergency supplies in case they get stuck.
Glasgow Airport was temporarily closed on Sunday so the runway could be cleared following heavy snow.
North Wales Police also warned of poor conditions on the roads due to snow and ice, particularly on routes in Snowdonia.
Meanwhile, the Mountain Road was closed on the Isle of Man due to snow.
Some parts of the country, including areas in Somerset, experienced localised flooding.
In Northern Ireland, a yellow warning of ice is in force until 9am on Sunday, while a yellow warning of rain runs until 3pm.
Saturday night saw the coldest temperature recorded in the UK since February 14 2016, when minus 14.1C (6.6F) was recorded at Braemar.
Despite the frigid temperatures in the far north, the mercury rose to 11C in the (52F) in the far south west of England.
Met Office forecaster Steven Keate said the near 20C (46F) difference, caused as warmer air moves in, was "pretty unusual for the UK".
"The broad theme is it is turning milder from the west, but before we get there some snow will fall," he said.
Derbyshire Fire and Rescue service reported a number of accidents caused by the snowfall and asked people to take care on the roads.
On Friday, members of the public were urged to stay off the roads in some areas of Scotland, with weather warnings covering much of the country.
Dozens of schools around Scotland were closed while some shut early due to the weather.
On Tuesday night, more than 200 motorists were stranded overnight on the M74 as heavy snow and ice caused treacherous driving conditions.