Thousands of people have gathered at a church in Limerick to remember the life of Cranberries frontwoman Dolores O'Riordan.
Fans young and old, many clutching white roses and daffodils, streamed to St Joseph's Church where a public reposal was held on Sunday.
Large crowds lined the road outside for most of the afternoon as they waited patiently to get into the church.
O'Riordan's distinctive voice filled the building as her songs were softly played throughout the service.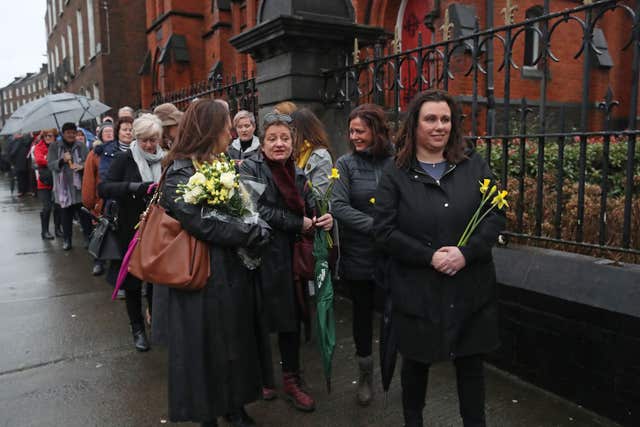 Photographs of the Irish singer performing and one of her with the Pope, were placed along the church walls.
Four books of condolence were also opened inside the church for mourners to sign.
The public reposal is the first in a series of services to be held before the funeral mass taking place in the Church of Saint Ailbe in Ballybricken, Co Limerick, on Tuesday at 11.30am.
Father James Walton will be the chief co-celebrant, alongside Archbishop Kieran O'Reilly, Archbishop of Cashel and Emly and Archbishop Dermot Clifford, the Archbishop Emeritus of Cashel and Emly.
The funeral mass will be broadcast live by Limerick's local radio station.
Tuesday's service will be followed by a private family burial.
O'Riordan was in London to discuss plans for the band's latest album when she was found dead in a hotel.
The 46 year-old – who was also a member of alternative rock group D.A.R.K – had been working on a new studio album with The Cranberries in the months before her death and was expected to discuss its scheduled release with record label BMG while in England.
A number of tests have been carried out to establish the cause of the musician's death, an inquest heard on Friday before it was adjourned until April 3.
Sales and streams of the band's back catalogue have rocketed by 1,000% in the days since her death.
Greatest hits collection Stars: The Best Of 1992-2002 landed at number 16 on the albums chart this week, a higher position than its previous peak of number 20 when it was released in 2002.
The singer was renowned for her distinctive voice and the band enjoyed huge success in the 1990s with tracks including Zombie and Linger.