The mother of an eight-year-old girl who died after being knifed at a bungalow said "my partner stabbed my little girl", a neighbour has said.
Graham Greatrex, 74, told how he helped comfort the woman after the schoolgirl was discovered badly wounded  in Brownhills, near Walsall, on Saturday night.
The girl later died in hospital. A man, 54, has been arrested after being found at the property with a stab wound to his stomach.
Mr Greatrex, who lives a few doors from the crime scene, told the Press Association he went to help the mother.
He said: "I just offered her a warm drink because it was a bitterly cold night.
"She just said, 'My partner's stabbed my little girl'.
"She was in shock and she couldn't say anything else."
The 54-year-old man taken to hospital is now in a stable condition and will be questioned "in due course" over the incident in Valley View, a residential street on the edge of the town.
On Sunday the home was being searched by forensics experts in the cordoned off, one-storey dwelling, which is believed to belong to the local authority.
It was one of a row of terraced bungalows in the street.
Mr Greatrex said that a man had lived there for the past six months after the previous occupier, a woman, had died.
But he said he did not know the current occupant.
He added: "It was a bit of a shock. You can't imagine it happening on our doorstep, especially when it's a little girl."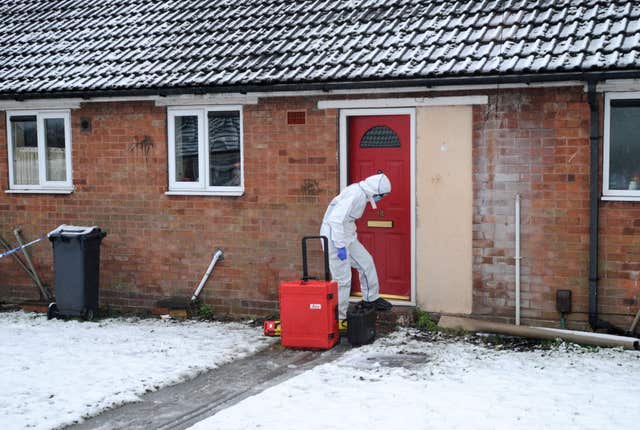 "Our family liaison team are supporting the family of the little girl, who are naturally devastated by her death. Our thoughts remain with them."
Other neighbours said they were also stunned at news that a child had died.
Bob Weir, who lives two doors away from the bungalow where the stabbing happened, said he had initially thought the incident was drug-related.
Mr Weir, 72, added that a middle-aged man lived at the now sealed-off property, apparently on his own.
The pensioner told reporters: "I didn't hear until this morning what it was and I was absolutely shocked – I didn't know the bloke who lived there and he hadn't lived there long, maybe six months, if that.
"There were police cars both sides of the road, ambulances … all sorts. I thought it was something to do with drugs.
"I didn't know there were any kids in there. I thought he just lived on his own. I never saw a girl or a woman there."
Another neighbour, who asked not to be named, said: "I only knew the guy to say hello to and I think he was married and was living there on his own.
"I didn't hear anything before the police got here.
"It's really sad. This is not the sort of area where you hear of anybody being stabbed."