A 12-year-old boy who raised thousand of pounds for charity in memory of his brother has been named as youngest ever finalist for Robert Burns Humanitarian Award (RBHA).
Mason Kidd, from Cumnock, East Ayrshire, carried out 18 'acts of kindness' last year in memory of his brother Ross who died of cancer at the age of two.
Mason, who has autism, took pizzas to a local fire station, treated police officers to doughnuts, left tennis balls in the park in Cumnock for dog walkers and their pets, and bought teddies for the babies at Ayrshire Maternity Neonatal Unit as part of his effort.

His 18th act of kindness was to raise £10,000 for Glasgow Children's Hospital Charity, presenting the money to the hospital on December 1, which would have been his brother's 18th birthday.
He has now been nominated for the Burns Award along with Sandra Brown who has championed support for victims of sexual abuse, and Ann Ferrer who set up the Rural Development Trust in India to promote women's rights.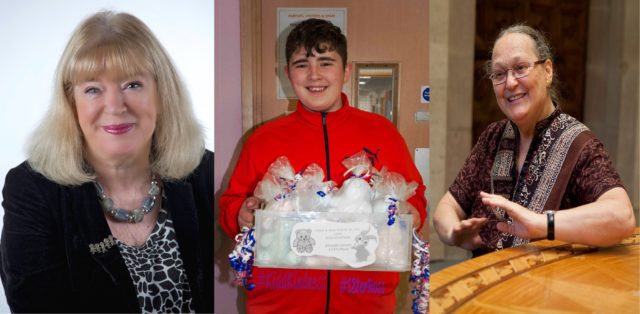 Organisers say it takes its inspiration from Robert Burns who viewed everyone
as equal and lived as a true humanitarian, as recognised in his famous line:
"That Man to Man, the world o'er, Shall brothers be for a' that."
Mason said: "I hope to be able to make more people smile hearing about my Kidd Kindness Project.
"While doing my project I've been able learn more about amazing people who do amazing things like people who have previously been finalists for the Robert Burns Humanitarian Award and I just can't believe I'm among these astonishing folk."
Mason's parents, Alyson and Gary Kidd said they were thrilled to find out Mason was a finalist for the award.
They said: "We watched on with pride as he touched so many people and marvelled at the pure joy he got from making so many different people, from all walks of life, happy with his acts of kindness.
"To see what Mason, at only 12 years of age, has done throughout his acts of kindness is wonderful for us, and because of social media, documenting these incredible acts, the word has spread and the happiness his project produced has made its way across the globe helping to bring more people that 'Kidd Kindness Smile' as they follow his journey.
"Words cannot express how proud the whole family and local community are of him."
Ms Brown founded the Moira Anderson Foundation for childhood abuse
victims and has led efforts to find the body of Ms Anderson went missing in 1957 aged 11.
She said: "I am thrilled to be a finalist for the RBHA, as it's an international honour recognising those tackling some very hard global issues.
"While it is a personal award, it's also a tribute to the fantastic team behind me at the charity I set up to deal with child sexual abuse. It is a widespread problem that causes more pain and misery in people's lives than we can ever imagine.
"It really is the Everest of childhood trauma, with lifelong effects. Individuals, however, can make a difference by speaking out then spreading the word."
Ms Ferrer has worked in India since the mid-1960s and the Rural Development Trust she set up with her husband has establishing four major hospitals, six rural clinics, two mobile clinics and other special-care centres in Andhra Pradesh and Telangana.
She said: "This is a respected and renowned award given after a great poet who was socially very progressive. At a personal level, I feel very moved because it is the first time I have received such recognition in my native country."
Douglas Campbell, Chair of the RBHA judging panel and Leader of South Ayrshire Council, said: "We received nominations from around the world for this year's awards and it's plain to see that our three finalists have all made a real difference to their respective communities.
"Given the quality of the candidates, judging the nominations was no easy task, but we've now settled on a shortlist which is both true to the legacy of Burns himself and to the intended spirit of this prestigious award.
As well as the RBHA 2018 title, winners receive the equivalent of 1759 guineas (approximately £1,800) – a sum which signifies the year of the Bard's birth and the coinage then in circulation.