Campaigners have claimed they are being excluded from plans to address issues caused by a rise in short-term holiday lets in Edinburgh.
Living Rent, Scotland's tenants' union, says the increasing popularity of Airbnb has pushed up rents for residents seeking affordable long-term accommodation.
Its members staged a demonstration outside Edinburgh City Chambers on Monday as representatives from the online room rental firm met with councillors to discuss future regulation of the short term let industry.
Living Rent says it was not made aware or invited to the meeting, which was also attended by some residents who use Airbnb to rent out their properties in the capital.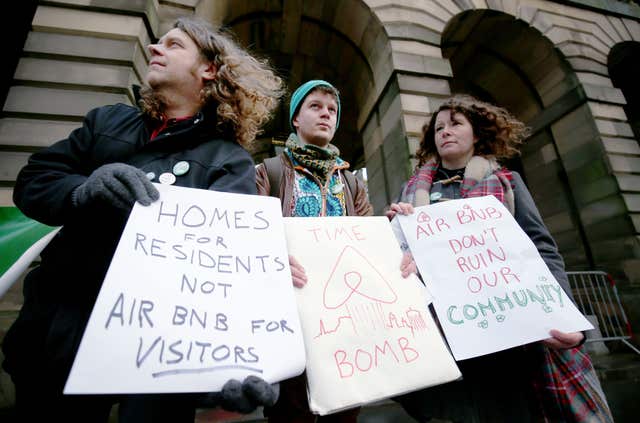 Green MSP Andy Wightman, who joined the demonstration, said the availability and affordability of homes in Edinburgh is "worsening by the month and short-term lets are exacerbating this".
Commenting on the meeting between councillors and Airbnb representatives, Cllr Gavin Barrie, housing and economy convener, said: "This morning I chaired a meeting to give councillors, officers and AirBnB the opportunity to discuss future regulation of the short term let industry.
"The meeting was very helpful and we will now work with officers on proposals, which will also be informed by the Scottish Government's report, which will go to a future committee meeting.
"In order that we can find the right solution for Edinburgh we will also continue to work with industry groups and the Scottish Government regarding regulation going forward."
In response to changes in the letting sector, and other "collaborative economy" businesses such as Uber, the Scottish Government set up an expert panel to examine its future.
Airbnb, which is represented on the panel, has put forward plans to ban Edinburgh landlords renting out their flats for longer than three months.
The panel's finding are due to be published next week.
A statement from Airbnb said: "Airbnb wants to be regulated and we have worked with more than 300 governments around the world on clear home sharing rules – and we want to do the same in Edinburgh."