Technology giants have a year to show they are serious about tackling online terror content, an ex-spy chief has warned.
Robert Hannigan, the former head of intelligence agency GCHQ, said governments will start passing punitive laws unless firms reform themselves.
He also claimed there is a level of "arrogance" in Silicon Valley, suggesting companies see themselves as sitting "above democracy".
Concerns over the availability of terror-related material such as execution videos and bomb-making instructions on the internet intensified after five attacks hit Britain last year.
The head of MI5 has said companies have an "ethical responsibility" to help confront the unprecedented threat, while Britain and France are exploring plans that could see platforms face fines if their efforts are not up to scratch.
Germany has already introduced measures requiring social media networks to swiftly remove illegal posts or face multi-million pound financial penalties.
Mr Hannigan said of the technology companies: "I was very critical of them back in 2014 when I thought they were being very obstructive, around counter terrorism especially, and the stuff we were trying to do.
"They have got much better to be fair, and I think they are trying, they are beginning to get the message.
"But I've always thought there's a kind of window for them to reform themselves, and show they're serious and they get the message.
"The window is closing I think, otherwise governments around the world will start legislating. Some have already.
"The German government for example. I think that's a shame. I think it would be much better if the companies reformed themselves but I think they are probably missing the boat."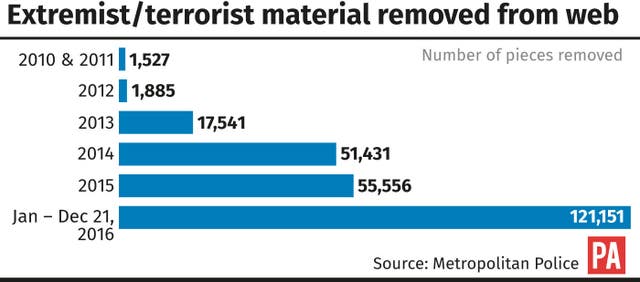 He described the companies as "massively rich" with "huge power".
He said: "I think there is a strange thing in Silicon Valley.
"It's a mixture of idealism, commercial reality – of wanting to make huge profits – but also a bit of arrogance to be honest, that they somehow sit above democracy."
Mr Hannigan, who was director of GCHQ between 2014 and 2017, did not single out individual companies for criticism.
Prime Minister Theresa May's official spokesman suggested that levies could be imposed if tech companies do not take action against extremist material.
"As we have said ourselves, progress has been made since the Prime Minister and other leaders requested much speedier action to remove extremist and terrorist material online.
"We have seen some movement in terms of taking material down automatically.
"But there is more still to be done and we reserve the right to take further steps if the companies don't achieve that."
Asked what sanctions companies could face if they fail to act, the PM's spokesman said: "In the past we have discussed the issue of levies as one possible option."
Major firms say they do not tolerate illegal content and have set out steps they are taking to clamp down terror-related material in recent months.
From January to June last year, Twitter removed just under 300,000 accounts for terror-related violations.
The microblogging site highlighted how the bulk of suspensions are the result of its internal efforts using "proprietary tools" – with less than 1% stemming from Government requests.
YouTube has introduced "machine learning" to help identify extremist and terror-related material, with more than 80% of videos taken down now removed from the site before they are flagged by a person.
Facebook has revealed it is using artificial intelligence to keep terrorist content off the site.
Facebook, Microsoft, Twitter and YouTube have set up the Global Internet Forum to Counter Terrorism to spearhead efforts to clamp down on extremist content.