University staff are set to stage a series of walkouts from next month in an escalating bitter row over pensions, it has been announced.
Members of the University and College Union (UCU) will stage a wave of strikes – beginning with a two-day walkout next month – if an ongoing dispute is not resolved, the union said.
Lectures, classes and exams at around 61 universities could be hit if UCU pushes ahead with industrial action.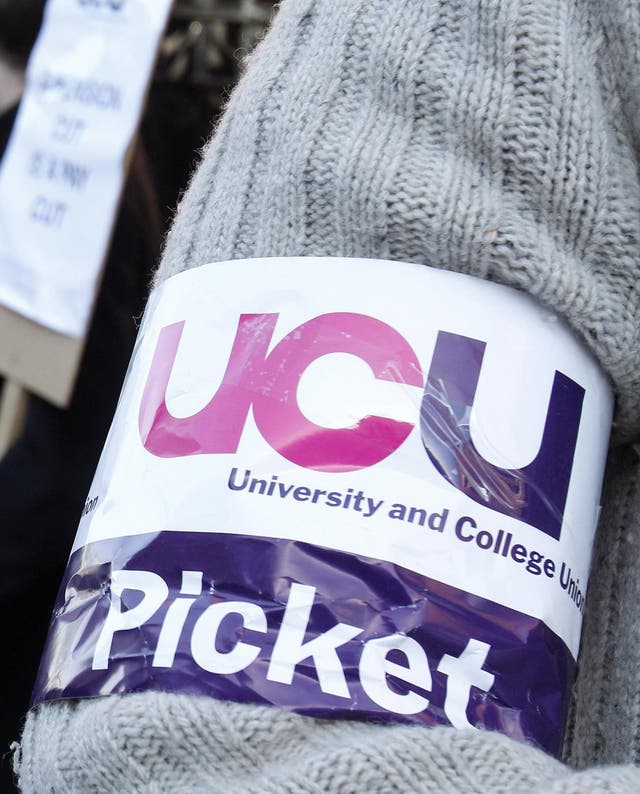 University employers said the prospect of industrial action was "disappointing" as talks over the pension scheme continue.
Following a meeting of its higher education committee, UCU said it will be staging 14-days of escalating action if the row is not resolved.
Action is likely to begin with a two-day walkout on February 22 and 23, followed by three-day, four-day and five-day strikes in future weeks.
Other action could include members working to their contracts, meaning they could refuse to cover classes, reschedule classes lost on strike days or undertake voluntary duties.
Hundreds of thousands of university workers are understood to be enrolled in the USS pensions scheme, mainly those working at older institutions established before 1992.
UCU has been balloting members enrolled in the scheme since November.
The latest round of talks on the USS are due to end on Tuesday.
UCU general secretary Sally Hunt said: "Universities will be hit with levels of strike action not seen before on UK campuses if a deal cannot be done over the future of USS pensions.
"Members have made it quite clear they are prepared to take action to defend their pensions and the universities need to work with us to avoid widespread disruption."
A Universities UK (UUK) spokeswoman said: "The prospect of industrial action at 61 out of the 68 higher education institutions balloted by UCU is disappointing as talks between employers and the union on USS pension reform continue.
"A solution to the significant funding challenges facing USS needs to be found.
"UUK's priority is to put USS on a secure and sustainable footing while offering attractive, market-leading pensions – the very best that can be afforded by both employers and employees.
"We should be under no illusion, this is not a problem that will go away if ignored.
"To retain the status quo would only serve interests in the short term. Without reform now, universities will likely be forced to divert funding allocated from research and teaching to fill a pensions funding gap.
"The option of no reform is a dangerous gamble. It is a risk that employers cannot take."
The last time the UCU took industrial action over the USS was in November 2014 when it staged a boycott of assessment and marking.
This was called off after two weeks to allow for fresh talks, which resulted in the dispute being resolved.