Government borrowing fell by more than expected last month after UK finances benefited from lower public spending and a £1.2 billion rebate from the EU.
Figures from the Office for National Statistics (ONS) show public sector net borrowing, excluding state-owned banks, fell by £2.5 billion to £2.6 billion in December, compared to £5.1 billion a year earlier.
Economists had been expecting a figure of between £5 billion and £6 billion.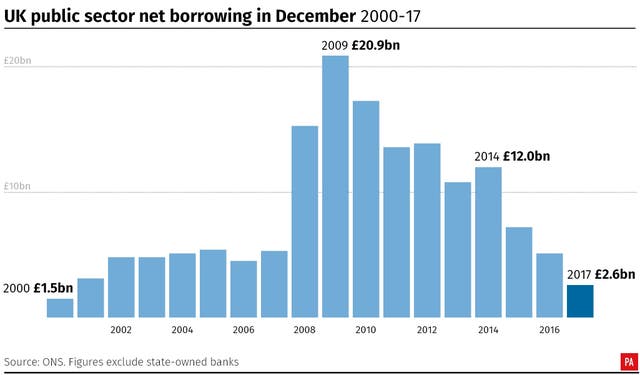 That rebate was the result of a smaller than expected EU budget in 2017, as well as updated economic forecasts that resulted in adjustments to member state contributions.
However, that rebate has already been accounted for by the UK's Office for Budget Responsibility as part of its November forecasts.
Samuel Tombs, chief UK economist at Pantheon Macroeconomics, added that the low public borrowing figure for December reflected "falling government spending, not a resurgent economy".
"Departmental spending fell by 3.1% year-over-year, compared to an average rise of 1.9% in the first eight months of 2017/18," he explained.
Sterling was barely moved by the figures, having already been trading lower against major peers in morning sessions.
The pound was down 0.3% versus the US dollar at around 1.394, and down nearly 0.2% against the euro at 1.138.
The ONS also detailed the deficit excluding banks for the current financial year – April to December 2017– showing it dropped by £6.6 billion to £50 billion.
That is the lowest year-to-date net borrowing total since 2007.
Meanwhile, public sector net debt, excluding state-owned banks, decreased by £26.8 billion to £1,591.4 billion in December, compared to a year earlier – equivalent to 77.2% of gross domestic product (GDP).
Public spending has been in the spotlight following the collapse of outsourcing and constructing giant Carillion earlier this month, prompting critics to call for a review of all outsourcing contracts and private finance initiatives.
Carillion held around 450 Government contracts, accounting for around 38% of the company's 2016 revenues.
The ONS noted in its release that the Government had committed funding to keep public services, previously run by Carillion, going.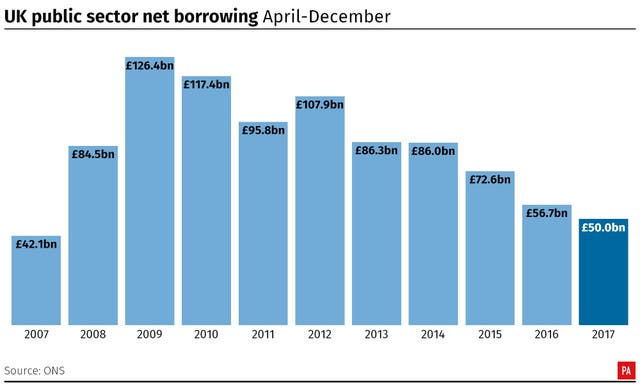 Howard Archer, chief economic adviser for the EY ITEM Club, said that overall the borrowing figures would be "welcome news" for Chancellor Philip Hammond.
"If the pattern of the first nine months were repeated over the full fiscal year, 2017/18 public borrowing would come in at £40.6 billion – which would be substantially below the downwardly revised shortfall of £49.9 billion forecast by the Office for Budget Responsibility in November's budget."
Responding to the ONS figures, the Treasury said: "We have made great progress in reducing the deficit by three quarters since 2010, but government debt is still far too high.
"Our balanced approach to government spending is getting debt falling, while investing in key public services and keeping taxes low".