Railway stations have reopened after a gas pipe leak in central London was repaired.
Engineers located the gas escape at the junction of Craven Street with Corner House Street, and are now checking nearby buildings.
People who made it into the PwC offices on Craven Street on Tuesday morning have since been evacuated, and a police officer said the gas level is still "extremely high".
Another officer told a crowd of workers that it could be up to four hours before they will be allowed in.
Charing Cross and Waterloo East stations were shut, with services diverted into Victoria, Cannon Street and Blackfriars.
Both stations reopened before noon, with disruption expected to continue for the rest of the day.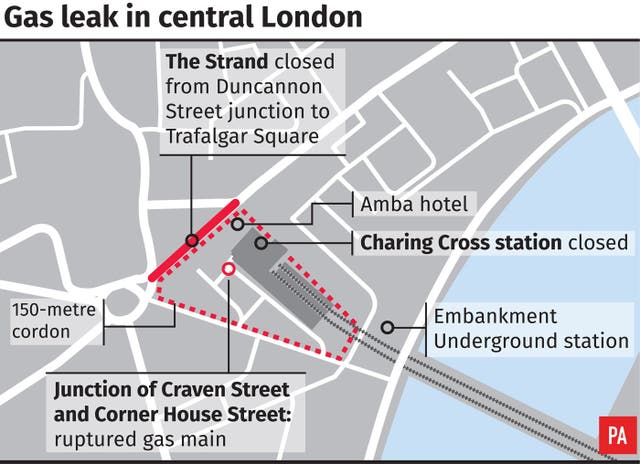 "We are now checking the closest properties to ensure there is no gas in these buildings.
"No-one can enter these properties until we have completed these safety checks."
Cadent said the emergency services' cordon will remain in place until all safety checks have been completed.
"Our priority is to get the train stations opened as soon as possible, followed by the buildings.
"Engineers are working to resolve the situation as quickly and safely as possible and we hope to have the stations and streets open by late morning," the company said.
Heaven nightclub was cleared and guests at a nearby hotel were moved into emergency accommodation after the alarm was raised in the Strand at around 2am on Tuesday.
The Amba Hotel, nearby flats, offices and Charing Cross stations were evacuated.
Craven Street and the Strand from Duncannon Street junction to Trafalgar Square was closed.
High levels of natural gas were detected at Craven Street, London Fire Brigade said.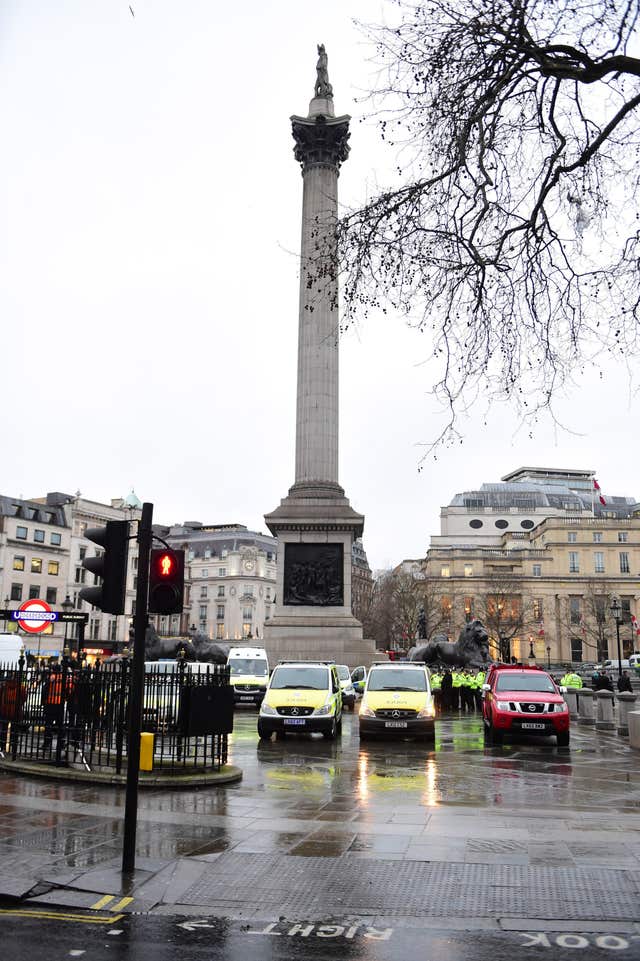 "With the ageing pipes in London there is an ongoing programme at the moment to replace all the pipework.
"It's just one of those things. It happens."
Mr Loft said there is no danger to the public.
A Network Rail spokesman said: "Having received the all-clear from the emergency services, we've now reopened Charing Cross and Waterloo East stations and are working with Southeastern to get services back up and running as quickly as possible.
"We'd like to thank passengers for their patience and understanding while this incident was dealt with."
Charing Cross is London's fifth busiest station, used by about 42 million passengers a year.
Southeastern thanked passengers for their patience and advised them to check for updates before travelling.
The Strand, a major route through central London, was closed and a 165-yard (150 metre) cordon put in place while National Grid engineers tried to isolate the leak.
Westminster City Council said a reception centre for residents was opened at The Royal Horseguards Hotel, Whitehall Court.