A Government minister who attended a controversial men-only dinner organised by a charitable trust that has since announced it is to close was called before the Tory chief whip and asked to explain himself.
Children and families minister Nadhim Zahawi was said to have found the Presidents Club fundraiser, at which hostesses were reportedly groped, "extremely uncomfortable" and left early.
But  he was given a "dressing down" and asked to explain his attendance after being called to a meeting with Tory chief whip Julian Smith on Wednesday, a Government source told the Press Association.
The Presidents Club, which said it was "appalled" by the allegations surrounding the event last week, has announced it will distribute remaining funds to children's charities before shutting down in the wake of the scandal.
Theresa May is set to target gagging orders that prevent women reporting sexual harassment, according to The Times.
Such a move would come in the wake of reports that hostesses at the event had to sign confidentiality agreements.

Revelations arising from the event, first reported by the Financial Times, prompted the resignation of businessman David Meller.
Mr Meller, Presidents Club trustee and co-chairman of the annual dinner at London's Dorchester Hotel, quit his role at the Mayor's Fund for London and the Department for Education.
A number of charities, including Great Ormond Street Hospital Children's Charity, that have benefited from the £20 million raised by the Presidents Club over more than 30 years said they will refund previous donations in the wake of the allegations.
Education minister Anne Milton told MPs Mr Zahawi had attended but "found the event extremely uncomfortable".
Tweeting in response to a demand that he condemn any inappropriate behaviour of those in attendance at the event , Mr Zahawi wrote: "I do unequivocally condemn this behaviour. The report is truly shocking. I will never attend a men only function ever."
Items at the auction included lunch with Foreign Secretary Boris Johnson, a trip to the Windmill strip club in Soho and plastic surgery "to spice up your wife".
It is understood that Mr Johnson did not agree to support the event and will not be taking part in the lunch that was auctioned to guests.
The British Association of Aesthetic Plastic Surgeons condemned reports cosmetic surgery was offered as a prize, describing it as "bringing the speciality into disrepute in a very public manner".
The Bank of England has distanced itself from the dinner, claiming it was not aware of the Presidents Club Dinner and "did not approve any prize for auction at the event".
Real estate fund manager Frogmore, which hosted a table at the event, has ended its association with the Presidents Club.
Leading figures in business, politics and finance attended the event hosted by comedian and children's author David Walliams, who is not the subject of any allegations.
Mr Walliams said in a statement that he attended "in a strictly professional capacity" and "did not witness any of the kind of behaviour that allegedly occurred", adding that he was "absolutely appalled".
His fee from this year's event has been donated to the Children's Trust, while a prize lot offered by the television judge will be withdrawn, a spokeswoman for the star added.
Financial Times reporter Madison Marriage, who went undercover as part of the paper's investigation into the event, told BBC Newsnight: "I was groped several times and I know that there are numerous other hostesses who said the same thing had happened to them.
"It's hands up skirts, hands on bums but also hands on hips, hands on stomachs, arms going round your waist unexpectedly."
She added: "I can't believe that it still goes on in 2018, I think it's quite shocking."
One woman, aged in her 20s, who waitressed at the event told ITV News: "We were play things. We were objects for them to gawp at, touch."
The Charity Commission said it was looking into the allegations "as a matter of urgency".
A statement from former Channel 5 baseball show presenter Jonny Gould, who was the auctioneer at the dinner, said he had "never witnessed any of the alleged behaviour of guests at this event nor in previous years".
He added: "If I had I would not have continued to work at the event."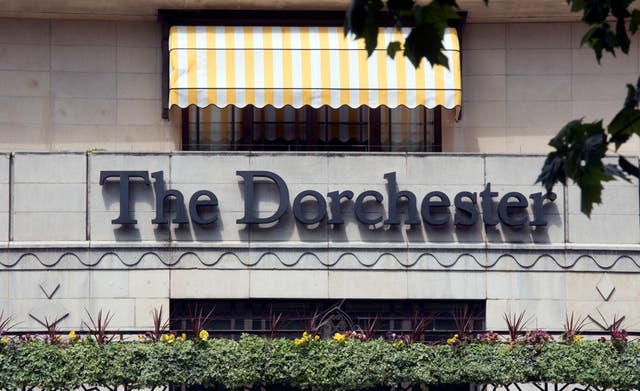 A spokesman for the Artista agency, which recruited the hostesses, said: "I was not aware of any claims of sexual harassment but the kind of behaviour alleged is completely unacceptable.
"I am checking with the staff and any complaints will be dealt with promptly and fairly."