Theresa May must act to "save the NHS from death by a thousand cuts", Jeremy Corbyn has said amid allegations of patients dying or being harmed following ambulance delays.
The Labour leader told the Commons that a whistleblower has reported about 80 patients had been "harmed or died" after "significant ambulance delays" over a three-week period.
Mrs May faced shouts of "resign" from some Labour backbenchers as she defended the Government's record and insisted she was "backing the NHS plan".
Speaking in the Commons, Mr Corbyn said: "According to a whistleblower, as many as 80 patients were harmed or died following significant ambulance delays over a three-week period this winter.
"This is a very serious situation and the Prime Minister must be aware of it.
"What investigation is the Department of Health carrying out into these deeply alarming reports?"
Mrs May said such reports are "very alarming", adding: "That is why the Department of Health does make sure that investigations do take place.
"That may be undertaken by the Department of Health or the particular trust involved – the ambulance trust or the hospital.
"But these issues are properly investigated because we don't want to see that happening.
"We do want to see people being properly cared for, and if there are lessons to be learnt then they will be learnt, because … our support for the NHS is about providing it with the funding, doctors, nurses, treatments, capabilities it needs in order to deliver for patients."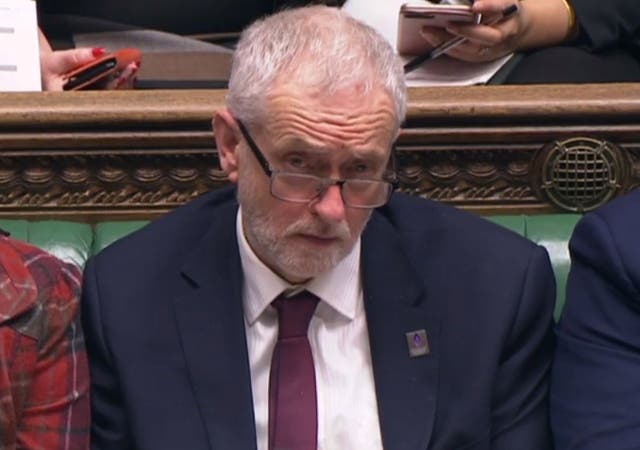 He added: "It's been reported that a man froze to death waiting 16 hours for an ambulance. Last week a young gentleman called Chris wrote to me saying, 'My friend's 93-year-old father waited four hours for an ambulance after a fall'."
Mr Corbyn said they are not isolated cases and are common across the country, adding: "It needs money, it needs support and it needs it now.
"The Prime Minister is, frankly, in denial about the state of the NHS. Even the absent Foreign Secretary recognises it but the Prime Minister isn't listening."
Mr Corbyn said the NHS is being "starved of resources" and people are "dying unnecessarily in the back of ambulances and in hospital corridors".
He went on: "GP numbers are down, nurses are leaving, the NHS is in crisis.
"Tory MPs might not like it, but I ask this question of the Prime Minister – when is she going to face up to the reality and take action to save the NHS from death by a thousand cuts?"
Mrs May replied: "There is only one part of the NHS that has seen a cut in its funding – it's the NHS in Wales under a Labour government.
"This is a Government that is backing the NHS plan, that is putting more money into the NHS, that is recruiting more doctors and nurses, that is seeing new treatments come on board which ensure people are getting the best treatment they need."